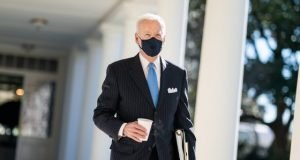 During the State of the Union address yesterday, Joe Biden warned that Russian President Vladimir Putin "will pay a continuing high price" for his "invasion" of Ukraine. The United States has already decided on the official narrative and the rulers are now demanding we choose sides.
War Censorship: The Offical Narrative Is Already Crafted
Biden specifically singled out Ukraine's Ambassador to the US Oksana Markarova, who was seen sitting with first lady Jill Biden, for a long round of standing applause as he praised the resolve of the Ukrainian people. "[Putin] thought he could roll into Ukraine and the world would rollover. Instead, he met a wall of strength he never imagined," Biden continued.
Biden did say the U.S. would not be sending troops to meet Russian troops on the ground, however, the tax slaves will be providing financial and military aid, nonetheless.  "We have mobilized American ground forces, air squadrons, ship deployments to protect NATO countries including Poland, Romania, Latvia, Lithuania, and Estonia… And as I've made crystal clear, the United States and our allies will defend every inch of territory, that is NATO territory, with the full force of our collective power," Biden said to another round of applause.
There is no end to the warmongering, and it's hard to believe that at some point, the U.S. will not be heavily involved in this "invasion." Biden did not announce anything new as far as major actions to be taken against Russia.
Biden "Warns" Putin To Not Use Cyber Attacks Against The United States
An article from 2017 appears to be possibly prophetic:
NATO Secretary-General Warns Future Cyber Attacks Could Spark A War
There is every possibility that the rulers of the U.S. could unleash a cyber attack on the U.S. and blame it on Russia to justify an actual full-scale war. If they want a war, they will propagate and use all the false flags they can to justify it.