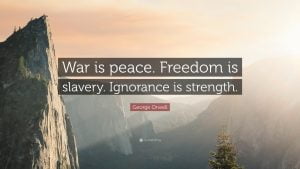 The official narrative has already been created, and anything that goes against that will be censored. Google and Meta have announced that they will be censoring Russian media outlets.
The head of global affairs said on Monday that they will be restricting access to Russian media outlets, such as RT, Sputnik, and Tass. This will go into effect across the European Union. Only one side of the story will prevail, and the ruling classes have already decided what you are going to believe.
Russian state-run media's activity on social media platforms has emerged as a contentious issue for big tech companies. Moscow is calling their dealings in Ukraine a "special operation," while the West and NATO-aligned countries continue to declare it as an "invasion." Which one is true? It's hard to say when access to information is straight-up propaganda and the other side is being heavily censored.
Twitter said on Monday it would label and restrict the visibility of tweets containing content from Russian state-affiliated media outlets, in an expansion of its policy to label the state media accounts, according to a report by Reuters. 
 Russian authorities are also resorting to threatening certain media outlets for "misinformation". Russia has threatened to fine or block 10 Russian independent media outlets if they do not delete publications about the war in Ukraine, Human Rights Watch reported. The authorities have interfered with access to Facebook and Twitter and have blocked access to another media website.
"For the past decade, Russian authorities have used a web of vague laws and flimsy pretexts to intimidate and harass independent and dissenting voices," said Hugh Williamson, Europe, and Central Asia director at Human Rights Watch. "Now they are bluntly imposing censorship combined with a false narrative that they demand everyone must parrot."
That sounds eerily like what Facebook (Meta), Twitter, and Google are doing in the United States. Interesting…
The censorship is coming from all sides, and there is a narrative that the rulers of this globe insist we all believe. Instead of allowing a free flow of information, and the human population of the globe to come to their own conclusions, the rulers are trying hard to make sure certain people only have access to limited information.  This is obviously not for the good of anyone but themselves.