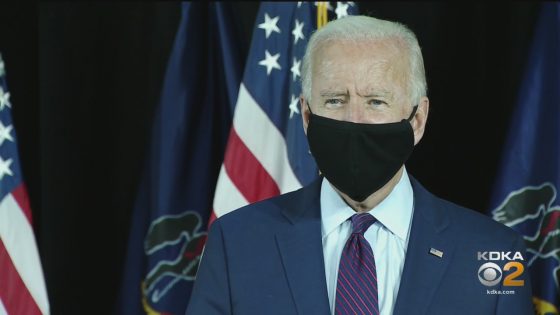 Joe Biden claims that we are still fighting the scamdemic, even as states reopen and the vaccine is available. But we'll see many more deaths if you believe Biden before we "turn the corner."
He says we're still a long way from beating COVID-19. There's going to be more deaths, Biden said. "We're going to see somewhere between 600,000 to 660,000 deaths before we turn the corner in a major way." This comes as Dr. Anothony Fauci, another tyrant who wants to keep this narrative going, says we should be wearing two muzzles at a time.
Dr. Fauci Says Wearing 2 Face Masks Is "Common Sense"
But the mainstream media is even admitting that the vaccine won't necessarily prevent you from getting COVID-19, so you'll still need the mask and social distance. So what's the point? What does this vaccine actually do then? Why isn't the media asking these questions? Why do they need people afraid and in a mental state that they'll take this vaccine even to their own detriment?
It looks like this coronavirus hoax will be used to coalesce every agenda the ruling class needs to usher in the Great Reset, The New World Order, and the totalitarian technocracy they want to control the masses.
Stay prepared and alert and listen for hints from the mainstream media.  While we know it's all propaganda and a part of the ruling class's dog and pony show, they do give us little hints as to what's really going on.  This could be a clue that this scamdemic rhetoric is going to be ramped up in the coming days.
Stay prepared and aware.  Make sure you have what you need and use discernment.  There is so much deceit and intentional misinformation that things can become confusing. Learn some skills, and most of all, don't live in fear.  These psychopaths feed off of our fear.
The Science of Fear: How The Elitists Use it to Control Us & How to Break Free