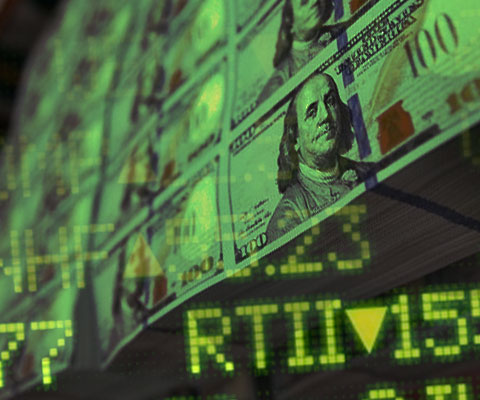 This article was written by Michael Snyder and originally published at his Economic Collapse blog.
Editor's Comment: The destruction of wealth is upon us. It could mean a devastating reset for billions of people around the globe, and harsh, austere conditions that involve political upheaval, civil unrest, loss of jobs and productivity and a bitter 'setting in' of the new era of dependency and decline.
The global markets are finding it harder and harder to disguise and excuse away the crumbling and collapsing that is happening all around them. Investors are being eaten alive. Destruction ahead?
The Stock Market Crash Of 2016: Stocks Have Already Crashed In 6 Of The World's 8 Largest Economies
by Michael Snyder
Over the past 12 months, stock market investors around the planet have lost trillions of dollars.  Since this time last June, stocks have crashed in 6 of the world's 8 largest economies, and stocks in the other two are down as well.  The charts that you are about to see are absolutely stunning, and they are clear evidence that a new global financial crisis has already begun.  Of course it is true that we are still in the early chapters of this new crisis and that there is much, much more damage to be done, but let us not minimize the carnage that we have already witnessed.
In general, there have been three major waves of financial panic over the past 12 months.  Late last August we saw the biggest financial shaking since the financial crisis of 2008, then in January and February there was an even bigger shaking, and now a third "wave" has begun in June.  Not all areas around the globe have been affected equally by each wave, but without a doubt this new financial crisis is a global phenomenon.
The charts that I am about to show you come from Trading Economics.  It is an absolutely indispensable website that is packed full of useful data, and I encourage everyone to check it out.
Let's talk about China first.  The Chinese economy is the second largest on the entire planet, and since this time last year Chinese stocks are down an astounding 40 percent…
As things have started to unravel in China, the Chinese have been selling off U.S. debt and U.S. stocks like crazy.  The following comes from Bloomberg…
For the past year, Chinese selling of Treasuries has vexed investors and served as a gauge of the health of the world's second-largest economy.

The People's Bank of China, owner of the world's biggest foreign-exchange reserves, burnt through 20 percent of its war chest since 2014, dumping about $250 billion of U.S. government debt and using the funds to support the yuan and stem capital outflows.

While China's sales of Treasuries have slowed, its holdings of U.S. equities are now showing steep declines.
Unfortunately for China, their economy just continues to slow down, and George Soros is so alarmed by this and a potential "Brexit" that he has been selling off stocks and buying enormous amounts of gold in anticipation of an even bigger global downturn.
Japan has the third largest economy in the world, and over the past year Japanese stocks are down a total of 26 percent from the peak…
Personally, I have been extremely alarmed by what has been happening in Japan lately.  Japanese stocks were down almost 500 points last night, and overall the Nikkei is down a whopping 1,800 points so far in June.
Of course the Japanese economy as a whole is essentially a basket case at this point.  For a detailed analysis of this, please see my previous article entitled "Watch Japan – For All Is Not Well In The Land Of The Rising Sun".
Germany has the fourth largest economy in the world, and over the past year their stocks have fallen 19 percent from the peak of the market…
The key thing to watch for in Germany are serious troubles at their biggest bank.  I wrote a long article about the slow-motion implosion of Deutsche Bank last month, and just this week Deutsche Bank stock hit an all-time low.
The fifth largest economy on the planet belongs to the United Kingdom, and since last June their stocks have fallen about 13 percent…
One week from today, the "Brexit" vote will be held in the UK, and if they vote to leave the EU that could have very serious economic and financial implications for them and for the rest of Europe as well.  For an in-depth look at this, please see my previous article entitled "June 23, 2016: The Brexit Vote Could Change EVERYTHING And Plunge Europe Into Financial Chaos".
France has the sixth largest economy in the world, and over the past year French stocks are down 20 percent from the peak of the market…
The French economy is really struggling these days, and we have not heard much about it in the U.S. media, but there have been tremendous riots in major cities in France in recent weeks.
The seventh largest economy on our planet belongs to India.  Even though India is facing some very serious economic problems, their stocks are doing okay for the moment.  Even though stocks in India are down over the past 12 months, we have not seen a major financial crisis over there just yet.
But there is definitely a major crisis in the eighth largest economy in the world.  Italian stocks are down a staggering 32 percent from the peak of the market.  That means approximately a third of all stock market wealth in Italy is already gone…
Earlier this year, I wrote about the horrifying collapse of the Italian banking system that has greatly accelerated since the start of 2016.  It looks like virtually all of their big banks will ultimately need to be bailed out, and this threatens to become a far bigger crisis than the crisis in Greece ever was.
And let us not leave off the ninth largest economy in the world.  Not too long ago, CNN ran an article entitled "Brazil: Economic collapse worse than feared".  So not only are they admitting that the ninth largest economy on the globe is collapsing, they are also admitting that it is even worse than what the experts had anticipated.
So did I leave anyone off the list?
Ah yes, I haven't even addressed what has been going on in the United States yet.
U.S. stocks did crash last August, but then they recovered.
Then they crashed again in January, but then they recovered again.
Now U.S. stocks have been taking another tumble here in June, but we are being assured that there is nothing to worry about.
Meanwhile, the underlying numbers for the U.S. economy just continue to get worse and worse and worse.  If you have any doubt about this, please see the article that I posted yesterday entitled "15 Facts About The Imploding U.S. Economy That The Mainstream Media Doesn't Want You To See".
Hopefully this article will clear a lot of things up.  In this piece, I have presented undeniable evidence that a new global financial crisis has begun over the past 12 months.  We have not seen global stock declines of this nature since the great financial crisis of 2008, but much worse is still to come.
I would love to be wrong about that last part.
It would be wonderful if the worst was now behind us and good times for the global financial system were ahead.
Unfortunately, every single indicator that I am watching is telling me just the opposite.
*About the author: Michael Snyder is the founder and publisher of The Economic Collapse Blog. Michael's controversial new book about Bible prophecy entitled "The Rapture Verdict" is available in paperback and for the Kindle on Amazon.com.*
---

Michael T. Snyder is a graduate of the University of Florida law school and he worked as an attorney in the heart of Washington D.C. for a number of years.
Today, Michael is best known for his work as the publisher of The Economic Collapse Blog and The American Dream. 
If you want to know what is coming and what you can do to prepare, read his latest book [amazon text=Get Prepared Now!: Why A Great Crisis Is Coming & How You Can Survive It&asin=150522599X].