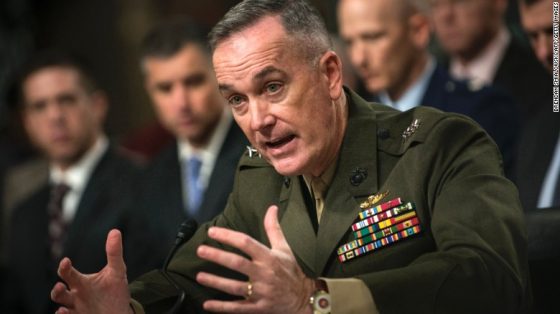 Although most Americans are aware of the ever increasing tensions between North Korea and the United States, the military is no longer pulling any punches.  Marine Gen. Joseph Dunford, the chairman of the Joint Chiefs of Staff, suggested Saturday that Americans must be "prepared for the possibility of a military confrontation with North Korea."
The United States is now declaring the rogue country's nuclear program an "urgent threat" by Dunford as well. While speaking at the Aspen Security Forum, a gathering of national security officials in Colorado, Dunford said:
"Many people have talked about military options with words like 'unimaginable. I would probably shift that slightly and say it would be horrific, and it would be a loss of life unlike any we have experienced in our lifetimes, and I mean anyone who's been alive since World War II has never seen the loss of life that could occur if there's a conflict on the Korean Peninsula. But as I've told my counterparts, both friend and foe, it is not unimaginable to have military options to respond to North Korean nuclear capability. What's unimaginable to me is allowing a capability that would allow a nuclear weapon to land in Denver, Colorado. That's unimaginable to me. So my job will be to develop military options to make sure that doesn't happen."
Some of these experts seem to believe that North Korea is not a threat to the United States, yet simultaneously, these same experts warn us to expect some military force to be used against the defiant regime at some point in the very near future.  Many experts have also warned that North Korea does have the missile capacity to strike the United States right now, while others are skeptical.
At this stage, Pyongyang does not appear capable of delivering a nuclear weapon on such missiles, but its rapid advancement in the overall weapons systems is deeply worrying to President Donald Trump's administration. -Politico
Can North Korea hit the United States with a nuclear weapon?  The state of Hawaii certainly is not taking any chances. The island state is currently preparing for the worst – a nuclear attack by North Korea. Hawaii is on schedule to become the first state in the US to test an "attack- warning" system in the event of a North Korean nuclear missile strike. Starting in November, Hawaii's disaster warning plan will include a new protocol in case of a nuclear attack, CNN affiliate KNHL reports.
Governments across the globe seem intent on starting WW3, and we will probably be the last to know when it happens.