Throughout 2009 we reported on the growing preparedness trend. And while many in the "alternative news" community began preparing for the possibility of far-from-equilibrium events like man-made and natural disasters, most of the populace remained unaware.
It seems that this is slowly changing, and large retail distributors are realizing that the market is much bigger than most anticipated.
You know something's not normal when retail giants like Costco start offering Preparedness product lines: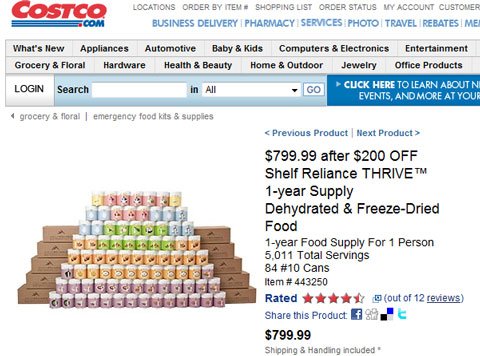 The 1 Year Food Supply contains 84 dehydrated and freeze dried #10 cans, capable of providing the calories, proteins, carbs, and nutrients one would need in the event the SHTF – totaling over 5000 servings of food. (Click here for product details)
The supply includes a variety of grains (rice, wheat, macaroni), vegetables, fruits, dairy, and non-meat proteins like beans and TVP (textured vegetable protein).
At $799, we'd consider it a decent package to start with to provide a single person, or even a family, a short-term preparedness supply. Of note is that many of the foods, especially in the non-meat protein category, are dehydrated and can be purchased directly at Costco in bags, and then repacked into 5 or 6 gallon pails. Things like rice, beans, powdered milk and wheat can be purchased in larger bulk quantities, possibly for a cheaper price.
Other companies like SHTFplan's affiliate The Ready Store, a large emergency preparedness distributor, offers similar products with various packages designed for singles, couples, and families, with preparedness time frames ranging from 30 days to one year. While the Costco package provides the absolute necessities for survival (translation = bland), there are also freeze dried and dehydrated products out there (available at the aforementioned preparedness site) that are not so bland, allowing you to add actual meats (chicken, turkey, beef), as well as breakfasts (ham & eggs, bacon eggs & peppers, Granola, etc.), and complete lunch & dinner entrees to your larder.
Ultimately, we envision the preparedness movement leading to more self sufficient practices, as opposed to just stocking up on freeze dried food. Just as we reported on the "prepper" trend in 2009, we forecast a "homesteading" trend to take hold in 2011 and 2012.
Remember this: If you are buying freeze dried food expecting to survive a major collapse of society, and you are not taking any other steps to prepare, then chances are you will have a very difficult time making it. And most preppers – those who are serious about being ready for an emergency – understand this.
Freeze dried and dehydrated foods, in our view, are a short term solution to deal with immediate needs. They are convenient, low maintenance and easily transportable, but once they run out, they're gone.
Long-term preparations in terms of food should include learning productive skills like composting, companion planting, micro farming, soil composition, and raising "micro" livestock.
This homesteading trend is essentially, as Tess Pennington of Ready Nutrition dubbed it, Simply Simplifying and embracing a self reliant lifestyle. One such example of simplifying is that a growing number of people will choose to not necessarily go to work, earn a paycheck and then exchange that paycheck for food at a grocery store. Rather, they will eliminate the middle man, and instead of exchanging their time and energy for dollars, they will exchange it directly for yield in their gardens and micro farms. And the yield will be much more than just food – the time and energy spent toiling on the microfarm or with microlivestock will generate knowledge, as well as improvement in many aspects of wellness like physical, emotional, spiritual, occupational and environmental well being.
When the SHTF, having the skills to produce food on your own will be essential. The question one must ask is: when the just-add-water emergency rations run out, what will I do?
If you don't think things will be bad enough that you'll need to learn these skills, why buy a one year supply of food in the first place? And subsequently, if you do think things will get bad enough that you'll need to break into the one year supply of #10's, then you had better be prepared for the long-haul, because something must have gone terribly wrong.
Hat tip: Tess Pennington, Rick Blaine, and Zero Hedge contributed to the content of this article
Disclosure: SHTFplan is affiliated with The Ready Store and may financially benefit from purchases made through their online store.