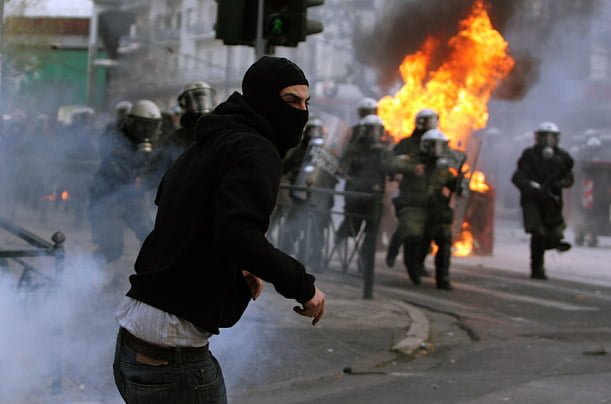 Chaos has been weaponized, and the next era will be defined, perhaps, by the angry back-and-forth between the extreme left and the extreme (alt) right.
The first two weeks of President Trump's executive orders and actions have sent the country into a tailspin – and this is just the beginning of something very raw and ugly coming to the surface.
The status quo has been dissolved – when it comes to immigration policy south of the border, or Muslim migrants and asylum seekers, things have become chaotic and uncertain with regards to how new policies will be enacted, and whether or not they are legal or constitutional.
But this kind of chaos is not random, and it is not a basic response to flashy headlines and political opinion. This anger and division is fomenting, it is a byproduct of a larger production – towards order out of chaos.
Here is how the unseen hand plans to radicalize and remap the United States – using the Trump-evolution to gain popular support for unconstitutional police state measures, surveillance and biometric tracking and identification measures.
Whether there is a new war abroad, or just an increasingly hot culture war at home, things are clearly coming to a head.
As this video from Truthstream Media argues:
Repetition is the lowest form of brainwashing. The masses are once again being programmed.

The not-so-secret word is "Chaos".

Whenever you hear it, the system wants you to scream… real loud.
You have been warned – they are sowing chaos, and a bigger backlash of instability will arise from these actions. Take heed to hedge yourself against what looks to be a very volatile time ahead.
Order out of chaos – the mantra for exacting control from a population that has had enough.
Read more:
"This Quickly Escalates Into Open Warfare" – Why The Government Is Preparing For Post-Election Chaos
The Prepper's Blueprint – A Step-By-Step Guide To Prepare For Any Disaster
Descending on the Capital: "Inauguration Chaos, Protests And Checkpoints" Begin
Ad Shows Army Prepping for Martial Law: "This Is Not Battle Training. This Is Riot Control"