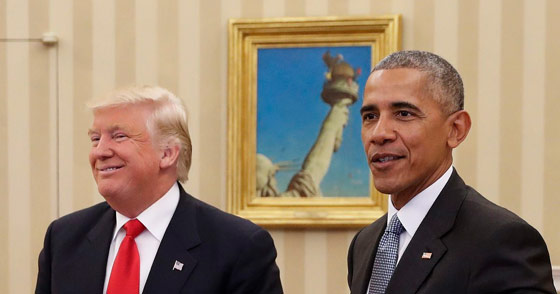 This article was written by Tyler Durden and originally published at Zero Hedge.
Editor's Comment: A new drama is unfolding at the White House – it seems that embittered holdovers inside the president's office and close to his quarters are determined to out the questionable behavior and gaffes from his early administration. An angry President Trump has already blasted moles inside his White House for leaking reports about his angry calls with the presidents of Australia and Mexico, as well as a series of anonymous tweets from a group of self-professed leakers.
While opposition to a new presidential regime naturally draws hyperbolic criticism from the opposing party, these leakers claim this is like no administration before in American history – right now, these people are claiming to expose an out of control leader before it is too late. If so, will they uncover anything substantial? What will become of the presidency, and the nation under its rule?
"In 26 Years, I've Never Seen Anything Like This" White House Leaks Reportedly Reveal Trump Team Turmoil
by Tyler Durden
Trump's volatile behavior has created an environment ripe for leaks from his executive agencies and even within his White House, according to The Huffington Post. And while leaks typically involve staffers sabotaging each other to improve their own standing or trying to scuttle policy ideas they find genuinely problematic, Trump's 2-week-old administration has a third category: leaks from White House and agency officials alarmed by the president's conduct.
For Americans who based their impression of Trump on the competent and decisive tycoon he portrayed on his "Apprentice" TV reality shows, the portrait from these and many other tidbits emerging from his administration may seem a shock: an impulsive, sometimes petty chief executive more concerned with the adulation of the nation than the details of his own policies ? and quick to assign blame when things do not go his way.

"I've been in this town for 26 years. I have never seen anything like this," said Eliot Cohen, a senior State Department official under President George W. Bush and a member of his National Security Council. "I genuinely do not think this is a mentally healthy president."

There is the matter of Trump's briefing materials, for example. The commander in chief doesn't like to read long memos, a White House aide who asked to remain unnamed told The Huffington Post. So preferably they must be no more than a single page. They must have bullet points but not more than nine per page.

Small things can provide him great joy or generate intense irritation. Trump told The New York Times that he's fascinated with the phone system inside the White House. At the same time, he's registered a complaint about the hand towels aboard Air Force One, the White House aide said, because they are not soft enough.

He's been particularly obsessed with the performance of his aides on cable television.
Notably, HuffPo admits…
Information about Trump's personal interactions and the inner workings of his administration has come to HuffPost from individuals in executive agencies and in the White House itself. They spoke on condition of anonymity for fear of losing their jobs.

While some of the leaks are based on opposition to his policies – the travel ban on all refugees and on visitors from seven predominantly Muslim nations, for instance – many appear motivated by a belief that Trump's words, deeds and tweets pose a genuine threat.
The New York Times, meanwhile, painted a portrait of a brooding commander in chief, wandering the White House alone in a bathrobe at night, watching too much cable television and venting his frustrations through angry tweets.
"I think it's a cry for help," said Elizabeth Rosenberg, a counterterrorism expert at the Treasury Department under Obama.

She said many staffers still working in the national security agencies under Trump see what's happening and are driven by a simple motive: "Incredulity, and the need to share it."
However, Daily Caller's Kerry Picket reports that President Donald Trump pointed the finger at Obama administration holdovers at the White House and National Security Council for leaking information about private phone conversations he had with leaders of Australia and Mexico.
"It's a disgrace that they leaked because it's very much against our country," Trump told Fox News Sunday, accusing "Obama people" in civil service positions for the leaks.

"It's a very dangerous thing for this country," he added noting that these individuals were still being sought out and replaced.

Trump described the media stories of what seemed to be contentious interactions between him and the two foreign leaders as misreported, and contended that he actually had "positive" conversations with both men.

Leaks relating to the new White House have gone to mainstream media outlets that Trump has blasted in the past for treating him unfairly including: the New York Times, The Washington Post, NBC and the Associated Press.
Ron Kaufman, who worked in George H.W. Bush's White House in the late 1980s and early 1990s, argued that the Trump administration's leaks are par for the course for a young administration. "There's always leaks," Kaufman said. "Every president in history has said the press hates me and there's too many leaks."
This article was written by Tyler Durden and originally published at Zero Hedge.