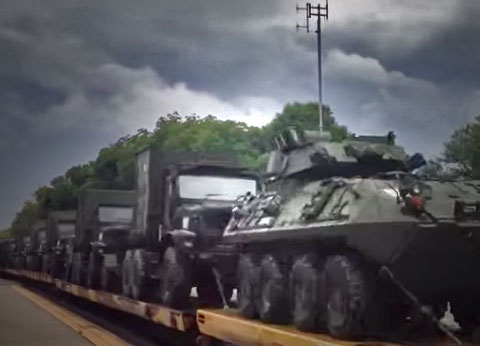 This article was written by and originally published at Intellihub.com, always on the watch for martial law and encroachments upon Americans.
Editor's Comment: Jade Helm 15 went live several weeks ago. It is perhaps the largest scale military exercise ever conducted on American soil, spanning across the Southwest, and reportedly, into many other states as well. It drew massive attention on the Internet and suspicion that went as high as Texas' governor, who vowed to have Texas State Guard troops watch out for potential abuses. And yet, there has been a complete blackout on what exactly has taken place during this exercise. Headquartered in Bastrop, Texas, a stone's throw away from the capital in Austin, the exercise launched with a ban on press and virtually no information about what was actually taking place.
Citizen journalists and staunch defenders of the republic have done their best to keep watch, too, but with little to tell the world. What we do know, is there continues to be a massive build up of military infrastructure and training. Videos and witnesses reveal the transport of large volumes of vehicles and equipment… dreading that the war could one day be against Americans, rather than overseas enemies. Let us hope and pray otherwise. But honestly, what are they gearing up for?
Jade Helm: Woodland military train convoys seen in four states stretching as far as the eye can see
by Intellihub
Since the start of the controversial massive realistic training exercise known as Jade Helm, news on what is actually happening within the exercise has become almost non-existent.
This is in marked contrast to all the information that was being released on a daily basis by the alternative media in the lead up to the exercise when one couldn't go half a day without a new military convoy sighting or announcement of another urban military training drill.
Now, almost a month into Jade Helm we are starting to see another pick up in the amount of woodland military equipment being shipped across the country, with military train convoys spotted in at least three states in the last week.
A massive military convoy with over 100 vehicles, including at least fifty Strykers was recently spotted moving southbound through Spartanburg, South Carolina. Note that the vehicles are in woodland camouflage which destroys the notion that they are for use in the Middle East.
The above sighting in South Carolina came just days after three different videos of military train convoys were released on the exact same day.
A large convoy of APC's was spotted heading east on I-84 near Ogden, Utah, apparently headed towards Cheyenne, WY.
A similar convoy, this one filmed in Idaho was also uploaded on August 7th.
Finally, another convoy of military equipment was seen on August 7th, this time in Eugene, Oregon.
Due to what can be described as a media blackout on official Jade Helm activity, it is impossible to know whether or not these sightings are connected to the controversial training exercise but one can imagine that they have to be for something important, perhaps even connected to what many believe is going to happen in September.
What do you think?
Are we seeing a massive preparation for some sort of martial law scenario or economic collapse in America? Is this connected to all the conspiracy theories surrounding September 2015?