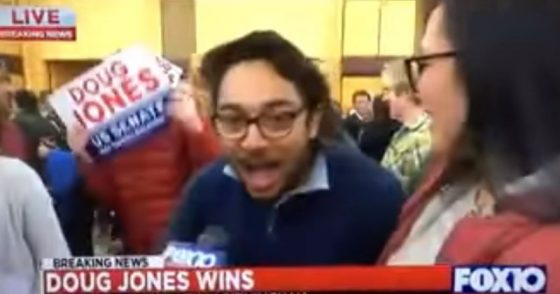 The possibility that there was widespread voter fraud during the recent Alabama senate election between Doug Jones and Roy Moore has become very real after a Jones voter was caught on camera discussing how his supporters came from different parts of the country to vote for the Democrat.
The clip, which has gone viral on Facebook, was captured by the local Fox affiliate shortly after the media had confirmed that Jones had pulled off the stunning upset.
After being asked by a local reporter why he was excited to see Jones victory, the man responded with a comment that could easily be interpreted as proof that voter fraud did indeed happen.
"Because we came here all the way from different parts of the country as part of our fellowship and all of us pitched in to vote and canvas together and we got our boy elected!" the Jones supporter stunningly revealed.
Alabama Vote Fraud? Doug Jones Supporter Says "We Came From Different Parts of the Country" – https://t.co/vU4w3YNWb5 pic.twitter.com/r899spwrWo

— Paul Joseph Watson (@PrisonPlanet) December 14, 2017
While it remains unclear what the man specifically meant with his comments, one can imagine that he either meant that people were transported into the state to campaign for Jones or that out of state liberals actually voted for the anti-gun former prosecutor.
Or perhaps both?
Interestingly, Moore has so far refused to concede the election with the claim that military and provisional ballots had not yet been counted.
"Roy Moore is continuing to refuse to concede the election, commenting, "In this race, we have not received the final count to include military and provisional ballots. This has been a very close race and we are awaiting certification by the secretary of state," reported Paul Joseph Watson.
"If Moore reduces Jones' 1.5 percentage advantage to within 0.5% after the military ballots have been counted, this will trigger an automatic recount which will will be paid for by the state government."
The possibility that voter fraud did indeed happen during the senate race is very real, especially when you consider the fact that the entire establishment cheered Jones victory shortly after it was announced that he had won the Senate seat vacated by Republican Jeff Sessions.
"Predictably, the same forces who have fought Donald Trump since the beginning are all cheering Jones stunning upset – From Hollywood to the deep state, all the way to Rhino Republicans, the establishment is clearly happy," The Daily Sheeple reported.
"All across the establishment, anti-Trump media, Jones victory is being hailed as a direct attack on the president when in reality he won an election by an extremely close margin against a candidate that the media spent a month calling a pedophile."
What do you think? Was there voter fraud in the Alabama Senate election or was Moore simply defeated due to the widespread sexual assault allegations, published by the mainstream media, against him?