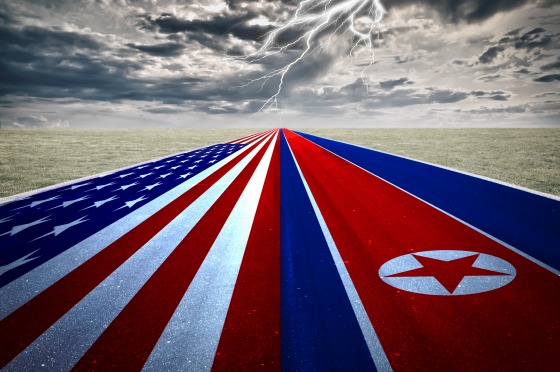 In yet another apparent attempt at igniting a full-scale war, North Korea has conducted a test of what many believe to be the countries most powerful ICBM ever launched, with the missile landing off the coast of the United States close ally Japan.
In response, South Korea conducted their own test-launch while leaders from the United States and Japan also condemned the renewed nuclear aggression.
CNN reported:
"North Korea fired an unidentified ballistic missile early this morning from Pyongsong, South Pyongan, to the east direction. South Korea's Joint Chiefs of Staff is analyzing more details of the missile with the US side," said an official at South Korea's Joint Chiefs of Staff.

South Korea's Joint Chiefs of Staff said the South Korean military carried out a "precision missile strike drill" just minutes after North Korea's missile launch.

The precision missile strike matched the flight distance of the North Korean missile and landed in waters off the east coast of South Korea.

South Korea's Joint Chiefs of Staff added that its counter drill tested a scenario of simultaneously hitting a target through the land, air and sea, but did not elaborate further.

"South Korea apparently used this launch to prove it has the ability to hit the North's mobile missile launchers or leadership targets," according to Adam Mount, a senior fellow at the Federation of American Scientists who previously worked as a senior fellow at the Center for American Progress.

"It is a measured and pointed response but also a reminder that the peninsula remains on hair trigger alert, he told CNN. "In this situation, provocations or even mistakes could quickly escalate out of control."
According to reports, the ICBM was the most powerful missile the rogue nuclear nation has ever fired, inching them ever closer to being able to strike the continental United States with a nuclear weapon.
"The missile was reported to have flown for 50 minutes, on a very high trajectory reaching 4,500 km above the earth (more than ten times higher than the orbit of Nasa's International Space Station) before coming down nearly 1,000 km from the launch site off the west coast of Japan," reported The Guardian. "This would make it the most powerful of the three ICBM's North Korea has tested so far."
CNN continued:
Guam's Homeland Security/Office of Civil Defense posted on Facebook that they were notified that North Korea "conducted a ballistic missile launch" but there is no immediate threat to them or the Marianas.

The missile was launched from the west part of North Korea and is likely to have landed in Japan's Exclusive Economic Zone after flying for about 50 minutes, according to Masaki Hikida, public relations officer from Japan's Ministry of Defense.

A 50-minute flight time would also suggest that this was a major ICBM test "possibly in operational settings" and should "disabuse US officials from thinking military displays, sanctions, or threats are deterring North Korean tests," according to Mount.

"Today's test proves that Pyongyang still feels able to test at will," he told CNN, adding it also shows the Trump administration "has to get serious about deterring an atmospheric nuclear test."
Make no mistake, this is now directly about whether the United States will attack a nation that is openly threatening it with nuclear weapons, that it now seemingly has, or remain neutral and appease the North Korean dictator as many liberals have called for over the past year.
"David Wright, a physicist and missile expert at the Union of Concerned Scientists calculated that on a normal trajectory, rather than a high lofted one, the missile would have a range of 13,000 km, enough to reach Washington, the rest of the US west coast, Europe or Australia," The Guardian continued.
For his part, President Trump told reporters in the White House that his government would take care of "It" leading many to wonder what that exactly means and if we are about to go to war.
"A missile was launched a little while ago from North Korea. I will only tell you that we will take care of it," Trump said as he spoke to reporters in the Roosevelt Room of the White House just hours after the missile launch.
"We have General Mattis in the room with us," he continued. "And we've had a long discussion on it."
Although Trump also claimed that nothing had changed regarding strategy against North Korea one has to wonder how long this administration will allow this kind of aggression to continue?