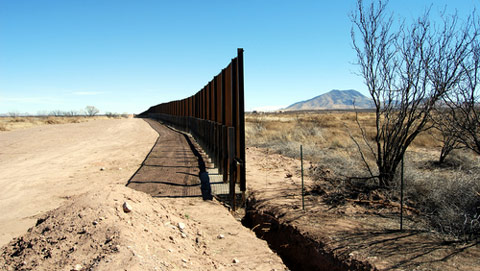 This article was written by Adan Salazar and originally published at Infowars.com.
Editor's Comment: The White House is busy with operations from the Obama Administration to undo as many laws and policies surrounding immigration as they can before Trump, or anyone else, takes office, in the hopes of forever changing the fabric of the United States.
If they succeed in overrunning the country, it will mean competing for even the lowest level job with millions of displaced people, while technology pushes us onto a grid, and corporations exploit both sides of the border issue. In the next few months – you are witnessing voter fraud in action, as the GOP, the Democrats and Wall Street scramble to keep out the one guy talking about restoring American sovereignty, bringing back jobs and energizing the economy. With even talk about fencing off the border and building up American wages, the elite are absolutely freaking out. They want low wages, and high profits, and rather insist that it continue to cost American living standards and income.
'I want to vote so Donald Trump won't win': Illegals Applying for Citizenship to Vote Against Trump
by Adan Salazar
Obama administration, Soros-linked NGOs behind push to naturalize illegals before November
Illegal aliens, encouraged by the Obama administration, are registering for citizenship ahead of November's presidential election in record numbers, with many vowing to vote against Republican frontrunner Donald Trump."I want to vote so Donald Trump won't win," Hortensia Villegas, a legal Mexican immigrant, told The New York Times earlier this week after attending a naturalization workshop in Colorado. "He doesn't like us," she said, compelled to register after a decade of living in the country illegally.Villegas' husband, Miguel Garfio, a US citizen born in Colorado, also told The Times he felt Trump's rise in the polls has impelled illegals to seek citizenship."A lot of people are opening their eyes because of all the negative stuff Donald Trump has brought," Garfio claimed.

Another Mexican immigrant interviewed at the workshop expressed familiar talking points regurgitated by the establishment media.

"Donald Trump never! Never!" Minerva Guerrero Salazar, 40, expressed. "He has no conscience when he speaks of Latinos. And he is so rude. I don't know what kind of education his mother gave him."

A union representative working as a naturalization operative told The Guardian they're capitalizing on Trump's perceived negative comments to propagandize Latinos into voting for anyone but Trump.

"Our messaging will be very sharply tied to the political moment, urging immigrants and Latinos to respond to hate with political action and power," an iAmerica Action union member said.

The Times notes the Obama administration and various labor unions, in addition to non-governmental organizations such as the George Soros-linked National Partnership for New Americans, have been behind efforts motivating immigrants to seek naturalization, providing outreach programs across the country in hopes to register more than 1 million out of 8.8 million illegal immigrants before November.

"People who are eligible are really feeling the urgency to get out there," the deputy director of the National Partnership said to the Times, conveying the success of their collective efforts. "They are worried by the prospect that someone who is running for president has said hateful things."

The massive efforts have not been in vain.

"Over all," reports the Times, "naturalization applications increased by 11 percent in the 2015 fiscal year over the year before, and jumped 14 percent during the six months ending in January, according to federal figures. The pace is picking up by the week, advocates say, and they estimate applications could approach one million in 2016, about 200,000 more than the average in recent years."

In addition to enlisting Latino celebrities for endorsements in September, last week the White House announced it would contribute $10 million in federal grants to help immigrants navigate the naturalization process.

"A majority of Latinos are Democrats, and some Republicans accuse the White House of leading a thinly veiled effort to expand the ranks of the president's party," according to the Times.

The administration, however, argues it isn't concerned with which political party the new citizens join.

"I certainly don't care what party they register with; I just want them to become citizens," the director of United States Citizenship and Immigration Services, Leon Rodriguez, told the Times.

Naturalization drives are currently underway in Colorado, Nevada and Florida, states where the Latino populations could sway the election outcome in November.

Despite the media's push to paint Trump as anti-Hispanic, the candidate won the Republican primary vote in Webb County, Texas, a region bordering Mexico along which the contested wall might potentially be built and inhabited by 95 percent Hispanic voters.

Trump himself has claimed he "will do really well with Hispanics," and a poll last month found that 38 percent of Latino Republicans would vote for him, versus 15 percent for Ted Cruz and eight percent support for Marco Rubio.

This article was written by Adan Salazar and originally published at Infowars.com.