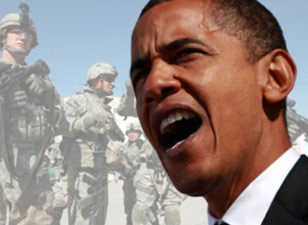 This article was written by Steve Watson and originally published at Infowars.com.
Editor's Comment: The excuses for war just keep coming. Give a man a Nobel prize, and he may make excuses for dragging out the end to wars and conflicts he didn't start. He might delay the withdrawal of troops, or the formal declaration. He may send drones to feel like he hasn't got soldiers in a war; from a distance, he may feel like a little collateral damage is for the greater good. He may hang around to encourage groups and leaders in the region to win support for their agenda. But after a while, war becomes the only eventuality.
Sooner or later, you can't call it anything but war, and the U.S. empire and Emperor Obama have nothing else to hang their hats on. The dollar is failing, and only the force of the petrodollar maintains the Pax Americana abroad. The economy is crumbling, and misleaders want nothing more than to focus on external problems that can be blamed on enemies. The empire is naked, and the continuation of war under all conditions is the only thing holding the big lie together.
This is a president who actually explained his foreign policy of bungled aggression, support for terrorists and undue meddling everywhere by stating: "We must declare war on war, so the outcome will be peace upon peace."
After Promising No Boots On The Ground In Syria, Obama Deploys Boots On The Ground
by Steve Watson
US officials have confirmed today that special forces soldiers will be deployed on the ground in Syria, despite the fact that Obama promised he wouldn't deploys 'boots on the ground'.
A senior administration official told the BBC that there will be "fewer than 50" forces deployed in the region to "train, advise and assist" vetted opposition forces.
According to the official, this does not mark a change US strategy, but rather an "intensification" of the campaign in Syria.
White House press secretary Josh Earnest also said that the decision was made by Obama in order to provide additional support for Syrian rebels fighting against the government there.
"There are now moderate opposition forces that are 45 miles (72km) outside Raqqa," Earnest said. "The president is prepared to intensify the elements that have shown promise."
He said: "This is an intensification of a strategy he discussed a year ago."
Something else Obama discussed previously was his decision to not "pursue an open ended action like Iraq or Afghanistan." He also promised not to send in 'boots on the ground' in Syria or pursue an open ended air campaign.
Turns out that was all BULLSHIT… again.
Well I guess he's broken all other promises why would this be any different #ww3 #ThanksObama https://t.co/xUwRHrUQZU

— ⚡Ëññå ήøł⚡ (@CompletelyJaded) October 30, 2015
Special Forces deployment to Syria said to be a "shift," not "change." True, because special forces already in Syria https://t.co/dtrFgS9sMm — Noah Rothman (@NoahCRothman) October 30, 2015
@Major_Skidmark @guypbenson @NoahCRothman @redsteeze Maybe we're borrowing the actual boots from Canada?

— Dave Rubin (@RubinReport) October 30, 2015
@RubinReport @guypbenson @NoahCRothman @redsteeze Maybe they're all wearing tennis shoes, so technically he didn't lie? — Gone Galting (@Major_Skidmark) October 30, 2015
I expect all you democrats to get out and protest for Obama sending us troops to Syria

— ECU Engineer (@ECU_ENGINEER) October 30, 2015
Breaking: 2007 War Protesters Reunite in Massive Protest Against President Sending US Combat Troops to Syria pic.twitter.com/nKtlrKq4nG — David Burge (@iowahawkblog) October 30, 2015
Leftist anti war protest of Obama's war in #Syria pic.twitter.com/QC7wvKA7yX

— Gone Galting (@Major_Skidmark) October 30, 2015
Tens of thousands gathering on Mall to protest Not-War in Syria pic.twitter.com/XW4i0jNQya — Ride It Down (@Beer__Wolf) October 30, 2015