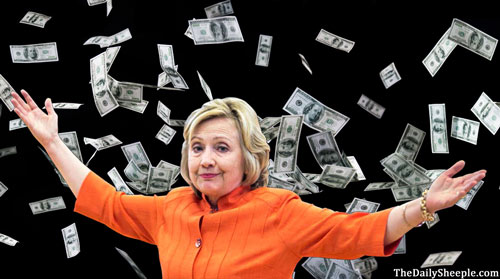 This article was written by Tyler Durden and originally published at Zero Hedge.
Editor's Comment: Although everyone keeps claiming that the FBI will soon officially investigate and indict Hillary Clinton, and that the House of Cards, the long list of lies and dead bodies will catch up to her and stop her campaign dead in its tracks… it is still difficult to believe that she will not simply gain the nomination and be crowned in the filth of her own scandals.
Nonetheless, all of this corruption is simply too much to hide, and now even the establishment media are turning on her. What will really happen next? Accountability, or complacency and acceptance?
It's Over: Even MSNBC Turns On Hillary – "Stop Lying, Stop Digging"
by Tyler Durden
To say that Hillary did not react properly to the damning State Department Inspector General report which yesterday found that she broke numerous government rules by setting up her own email server, would be a gruesome understatement.
As a reminder, Hillary's kneejerk response was to plead ignorance and claim that she was merely doing what her predecessors had done before, a claim that was promptly refuted, which was followed by her spokesman Brian Fallon appearing on CNN and saying that the Obama appointed IG had an "Anti-Clinton" bias by releasing the report.
Things however turned decidedly worse for Hillary when even the rabidly pro-Clinton channel MSNBC decided to tear Hillary apart for what is now an insurmountable mountain of lies.
It took place early today when MSNBC host Joe Scarborough slammed Hillary Clinton, calling on the Democratic presidential front-runner to "stop lying" about her personal email account.
"It's pretty remarkable," he said on "Morning Joe" of Clinton's response to a watchdog report that found Clinton and her top aides did not comply with policy while she served as secretary of State as cited by The Hill. "I don't understand why you put out a statement like that," Scarborough added. "Stop lying, stop digging."
Instead she should have said "I screwed up. I'm terribly sorry" according to the MSNBC anchor which he offered as alternate responses. "'I hope the American people will forgive me and I hope they will let us move on to the issues that matter.'"
Scarborough continued his take down on Thursday saying that the issue remains a major concern for her campaign. "The biggest concern is security," he said. "A lot of people act like, 'ooh, there's much ado about nothing here."
"Well, actually, there was a lot of classified documents, a lot of classified materials going through this server. The great fear all along [was] that a home-brewed server in Chappaqua, N.Y., was going to be broken into."
And then there is the "Guccifer" wildcard. Recall that as we reported previously, the extradited Romanian hacker Marcel Lazar who allegedly hacked into Hillary's server just pled guilty and has promised to fully comply with the ongoing investigation. He has previously claimed that he had access to the former Secretary of State's "completely unsecured" server. "It was like an open orchid on the Internet," Lazar told NBC News. "There were hundreds of folders."
If he provides the evidence that he has done just that, and we are confident that is precisely why he was so eager to plea with the Feds, Hillary's troubles are about to skyrocket.
Full clip below:
This article was written by Tyler Durden and originally published at Zero Hedge.