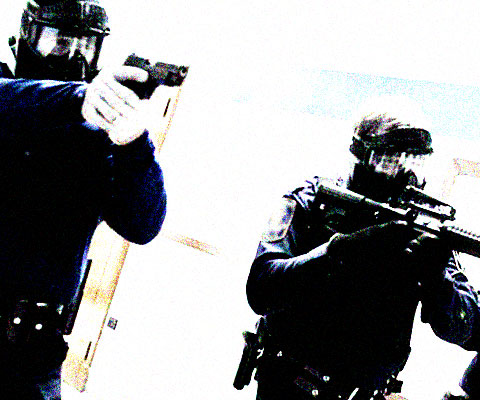 Are children safe in public schools?
If the answer seems pretty obvious, it is confirmation that society has definitely gone to extremes that would not have been recognizable in past decades of American history.
Now Denver-area schools are becoming the first to guard their student populations with military-style semiautomatic rifles, and things certainly appear to be escalating.
via NBC News/AP:
A suburban Denver school district is arming its security staff with military-style semiautomatic rifles in case of a school shooting or other violent attack, a move that appears unprecedented even as more schools arm employees in response to mass violence elsewhere.

The guards, who are not law enforcement officers, already carry handguns.

[…]

The move raised new questions about how far school officials should go in arming employees, a practice that has become standard in the aftermath of the 2012 Sandy Hook Elementary School shootings.
One can only hope that these weapons would stop a shooter before they could hurt anyone, but there isn't any guarantee.
Active shooters, mass killings and militarized police and security now haunt the halls where education and learning is supposed to be taking place. More children than ever before are on pharmaceutical medications, despite the known links to suicide and homicide. Between Common Core and politically-correct policies, these institutions are teaching that up-is-down, and down-is-up like never before.
One school in Florida even punished a 16-year old student for wrestling a gunman threatening other students to the ground and preventing a shooting. Active shooter and martial law drills have become commonplace, and many of them have been unannounced, causing terror and panic in students and teachers.
While most schools remain "gun-free zones" and have been reluctant to allow teachers to be armed in the case of the worst incidents, many have readily invested in armed security, surveillance technology and counter-terrorism approaches to "safety" in schools.
The result has been a heightened atmosphere that is increasingly paranoid, and ready to treat anyone and everyone as potential suspects – including children:
Ken Trump, a school safety consultant in Cleveland, said the Douglas County case may mark the first time a district has equipped its in-house security officers with semiautomatic rifles.

"Taking this step certainly ratchets up a notch the whole idea, the question of what's reasonable, what's necessary in terms of arming officers," Trump said.
But are they being protected from potential violence, or indoctrinated in a police state society where even children are under sharp suspicion, and misbehavior is criminalized? Can we see down the road as to whether this is likely to tend towards more freedom, or less? More armed citizens is positive, but more guns only in the hands of police, but private and public, may prove not be.
Regardless, it is a precedent for the growing police state society that expects individuals to conform to the masses, and obey authorities at all costs. Michael Snyder argued that public schools are purposely preparing students to live in such a society:
Our children are the future of America, and our public schools are systematically training them to become accustomed to living in a "Big Brother" police state. All across the United States today, public schools have essentially become "prison grids" that are run by control freaks that are absolutely obsessed with micromanaging the lives of their students down to the smallest detail. As you will read about below, students all over the country are now being monitored by RFID microchips, their lunches are being inspected on a daily basis by school administrators, and the social media accounts of students are being constantly monitored even when they are at home.

[…] One thing that was unheard of back when I was in high school was "active shooter drills". They are being held in school districts all over the nation today, and they often involve the firing of blanks and the use of fake blood.
In typical fashion, Snyder goes on to make a long list of bizarre school practices that will make your head spin, and are, frankly, teaching the future members of society how to become helpless slaves.
Everyone can see that there is a problem, but nobody seems to know the way to fix it.
There is a fine line somewhere in there…
Read more:
Public Schools Are Preparing America's Children For Life In A Police State
Zero Tolerance: High School Student Suspended For Disarming School Bus Gunman
Unannounced Shooter Drill Terrifies Students: "I Thought He Was Going to Shoot Me"
First School Installs $100K Shooting Detection System: "Alerts of Gunfire Within 1 Second, Near Zero False Alerts"
Should Your Kids Know How to Bug Out…from School?
1956: "America Peaked Back Then and We've Been In Decline Ever Since"
School Threatens to Take Kids If Parents Are Late for Pickup