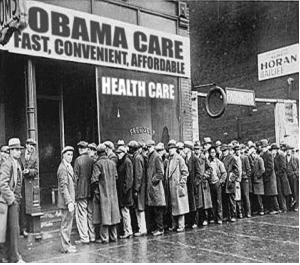 Are you prepared to survive… the age of socialized medicine? Health care coverage shouldn't be life threatening, but…
Unfortunately, the skyrocketing cost of health care coverage under Obamacare is forcing millions of middle class families to do without coverage, while being forced to pay the tax penalty. To do anything else is simply unaffordable.
This is a nightmare, and incredibly unfair to American families – and yet, it is now the state of the nation. This is the crushing status quo.
Prepare for the dark times ahead – and empower yourself to keep you and yours healthy and thriving. This is something your doctor, your E.R. and your government can't and won't do for you.
As time goes on, health care will continue to deteriorate, yet become increasingly more expensive, less available, and with more red tape than ever. This is just not a tenable situation.
If inadequate hospital and doctor visits can cost thousands, and perhaps fail to even address the problem, hard hit and struggling Americans are going to have to turn towards each other in order to maintain good health.
According to the Patriot Nurse, in this difficult situation:
"You will have to invest in yourself, and become, de facto, your own frontline healthcare provider."

"You are going to have to know how to assess someone who is sick among your friends and family… the burden of healthcare will be put on you, asymmetrially"
That means paying to take courses and training in first aid, CPR and basic medical – or advance your skills beyond that.
It may be wise to designate one person in your family or group to take on this role, if there are no doctors, nurses or paramedics among you.
In addition to 101 medical techniques, it would be very valuable to become learned in herbal remedies, folk medicine and other old fashioned remedies that have worked for thousands of years. If these relatively inexpensive treatments work, then you can avoid costly trips to the doctor. Eating right, exercising and maintaining good health can prevent diseases and delay problems for many years, and is well worth any effort put in.
via the PatriotNurse.com:
How has healthcare changed and what is it going to look like over the next few years? What can you do to protect yourself and your family from rising costs and declining quality of care?
Besides the outright theft and fraud inherent in the socialist system, this medical scheme is setting up the nation's population to be chronically sick, heavily medicated, vaccinated, sedated and pumped full of chemicals and government propaganda.
As already chronically ill and obese people, many of whom are in the lower economic bracket, sign up for Obamacare – subsidized by taxpayers in many cases – the cost of providing health care soars, and treatment quality declines.
This is a downward spiral.
As frightening as it is, it is best to see it from a sober perspective, and prepare your sphere to take care of most of its own problems – medical and healthcare wise, and in many other respects.
Whatever it might cost will come back to you many fold when you need care that you can't otherwise afford. With the right training and preparations, you might be able to alleviate minor problems or even save the life of a loved one.
Of course, it is still important to know where to go if you need a hospital, an ambulance or a specialist doctor.
As SHTF reported:
In SHTF Survival: First Response Packs for Medical Emergencies, Tess Pennington of Ready Nutrition outlines some essential tools for your medical preparedness supplies, including books, supply lists and where you can acquire them:

When there is a  medical emergency, time is of the essence. Typically, medical rescue workers who respond to accidents work swiftly by having their supplies organized and at times, pre-assembled (wound care, trauma packs) to treat patients more efficiently.  Having these items pre-packaged cuts down on response time, and gives the responders more of an advantage in properly caring for the wounded. That efficiency can easily be replicated for your medical supplies or added to your SHTF sick room.

Medical first response packs can be made ahead of time using most of the medical products that you have on hand. In fact, these first response packs are not limited to medical emergencies, they can also be used for dental emergencies as well. To prepare for a SHTF scenario, it would be beneficial to take into account the most likely medical situations you may come in contact with and plan accordingly.

Pennington provides detailed supply lists for a number of scenarios including:
Response packs for superficial wounds

Response packs for hikers

Response Kits for wounds that require sutures

Suture Removal Kits

Response packs for advanced wound care: bleeding wounds, gunshot wounds, stab wounds

Response packs for advanced wound treatment: open or bleeding wounds fractures, falls

Response packs for 72-Hour Kits: Intended for the treatment of open or bleeding wounds caused by gunshots, knife cuts or punctures
Self-reliance and a revolutionary spirit of wellness are what is going to separate the survivors from the growing weakness and disease of the collectivized masses. Sad but true.
Just know where your knowledge limits are, and when it is time to call for professional help (and when doing so would just be a waste of precious money).
Learn more about medical prepping, emergency supplies and health care training:
The Prepper's Blueprint: Medical, Emergency and Life Saving Readiness
Hard Core Medical Supplies – This Ain't Your Basic First Aid Kit
30 Most Popular Herbs for Natural Medicine
[amazon text=Herbal Survival Kit: Remedies for the Most Common Survival Ailments&asin=B00J5ZQ9QU]
The Four Prescription Drugs You Must Have in a Crisis… And How to Get Them
Not Wealthy Enough To Meet Skyrocketing Rates, "Middle Class Is Being Crushed By Obamacare"