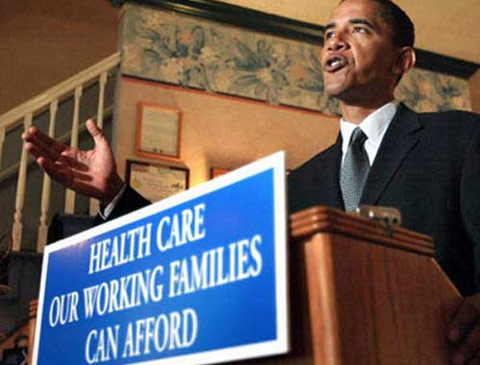 Minnesota is in good company.
Like dozens of other states across the country, its government-mandated health care exchange is facing steeply-rising premiums for individual plans at levels that are both outrageous and completely impossible for the average Middle Class family to pay or keep up with.
And as future rates continue to rise – and it's going to hurt a lot of people.
Because the system was designed to fail; or, because the government and health care lobbies have so little regard for the people that will actually have to live and die by their rules, the prices are skyrocketing by more than 50% in Minnesota – and by similarly absurd numbers in other states – and the exchange narrowly avoiding collapsing altogether in 2017.
via the Daily Caller:
Minnesota will let health insurers increase their rates by at least 50 percent next year to protect the state's Obamacare health insurance individual market from "collapse," the state announced Friday.

[…]

The increase in premiums for next year will range between 50 percent and a staggering 67 percent. This comes on the heels of an increase of between 14 percent and 49 percent for 2016. After those increases, Rothman warns, the annual growth rate will be completely unsustainable, showing a desperate need for reform.
Of course, this massive failure – which, like everything else in the Obama Administration, is taking the heaviest toll on the middle class – is by design. Sen. Harry Reid admitted that the plan would collapse, only to usher in a truly-socialized single payer health care system from the ashes.
Senate Majority Leader Harry Reid (D., Nev.) was asked whether his goal was to move Obamacare to a single-payer system. His answer? "Yes, yes. Absolutely, yes." (source)
Regardless of the future of the system, it is hurting middle class Americans now, who are finding health care anything but affordable. Unlike those in the lower ranks of the working poor and the dependent, there are no government subsidies for those who work independently, and make too much for hand outs, but who are still a long way from being able to shell out for the cost of coverage.
All that is definitely no good… the backbone of a vibrant American populace is being undermine and destroyed.
As the Daily Caller notes:
"Middle-class Minnesotans in particular are being crushed by the heavy burden of these costs. There is a clear and urgent need for reform to protect Minnesota consumers who purchase their own health insurance," Rothman said at the time.

About five percent of Minnesota residents, roughly 250,000 people, are dependent on the individual market for their health insurance. Obamacare requires all American adults who do not receive health insurance from their employer to either buy individual health insurance or pay a fine. The persistent increases in the price of individual insurance are a sign of a potential "death spiral" in the individual market, as the massive cost increases will likely encourage more people to go without insurance and pay the fine instead, thereby reducing the customer base for insurers and forcing additional rate hikes.
The resulting cluster is driving insurance competitors out of the model, which is becoming increasingly monopolized by one or two providers… and even that won't last.
Under the problem-reaction-solution disaster model, this crisis will "require" yet another government intervention and takeover.
Here are the expected premium increases for many other states, before Minnesota was added to the list (and don't forget Texas, also added after this list, which faces a 60% increase):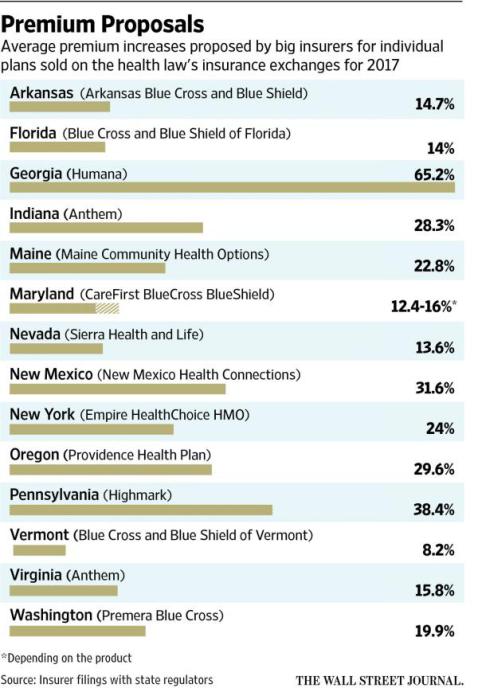 Read more:
It's True: Obamacare "Health Insurance Payment Is About To Jump"
Not Wealthy Enough To Meet Skyrocketing Rates, "Middle Class Is Being Crushed By Obamacare"
Texas Health Care Costs Skyrocket 60% in 2017: Obamacare At "Unaffordable Levels For Everyone"
We Told You It Wasn't Free: "I Was All for Obamacare Until I Found Out I Was Paying For It"
Obamacare Crumbling Before Our Very Eyes: "Excuse For Fully Socialized Healthcare"