Editor's Note: This article has been contributed by Joel Skousen and the Strategic Relocation web site. This week Mr. Skousen discusses a relocation strategy that takes into account worst case scenarios occuring in the United States. While the majority of Americans are prepared to stay the course and take a widespread crisis head on right here in the continental U.S., it's not that difficult to imagine a scenario where relocating outside of the country, even if temporarily, might be the most appropriate strategy.
Consider a situation where the economy has literally fallen apart and your ability to generate any income whatsoever because of trade restrictions or currency collapse makes it impossible for you to cover even your most basic expenses. Or, perhaps a disaster on the order of Fukushima happens on U.S. soil as a result of a meltdown of any one of America's one-hundred nuclear reactors. Or, in a near-Armageddon type scenario, the United States engages in a World War III scenario that could leave tens of millions of people dead within a matter of days. It's also not that difficult to imagine a situation in America where law and order as we know it today breaks down completely, whether it be because of a disaster or political destabilization. 
Do you really want to be around for any of those? Standing your ground is one thing, but doing so when facing circumstances that reduce your survivability to near zero is obviously not recommended, especially if you have other options to get yourself and your family to safety.
In previous strategic relocation briefings Skousen has covered strategies for expat destinations like Costa Rica and Canada. Today we look at South America, specifically Uruguay, which is an extremely popular relocation country for people from all over the world. As with any move, Uruguay has some drawbacks, but Skousen also highlights the many benefits of living in this resource-rich, trade-friendly locale.
For assistance with relocation questions, whether going international or looking domestically, contact the Survival Retreat Consulting team or Mr. Skousen directly. To see U.S. and international relocation properties, including survivability ratings, check out the Strategic Relocation For Sale By Owner web site.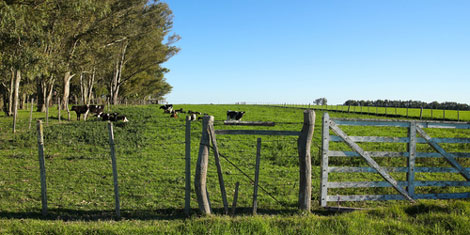 (Pictured: Farmland in the Uruguayan pampas. Carmelo, Rio Negro)
---
Strategic Relocation Briefing: Uruguay
By Joel Skousen
Author, Strategic Relocation and The Secure Home
This week I'm going to take a break from covering US destinations and take a look at a another pretty good foreign destination—the small nation of Uruguay, where I have lived and have a lot of friends and personal experience.   South America is being looked at by more and more expats as China and Russia become more aggressive, and where a future nuclear world war is very much on people's minds.  Not only is it relatively free from targets in a nuclear war, but it's also been free from the effects of Fukushima.
Uruguay is a large and flat plain with only a few isolated hills surrounded between its long coast on the southern Atlantic Ocean and the Uruguay River to the west, which separates Uruguay from Argentina. It borders Brazil on the north.  Before president Franklin Roosevelt sent thousands of Eucalyptus trees to Uruguay, this nation was almost treeless—just one big grassy plain populated by Gauchos (the Uruguay cowboy) and farmers.  Nowadays, you see a lot of trees, and some still in large blocks of cultured forests, planted all in rows like crops.  The soil is fertile and Uruguay raises a lot of organic cattle and sheep—giving Uruguayans its well-deserved reputation for their fine grass fed meat, prepared over an open fire on the "Parrilla" (wood fired grill).
While the terrain in Uruguay isn't strategic like Switzerland or Chile, studded with forests and mountains, it's still easy to find rural peace and safety if you get away from the hustle and bustle of the capitol city, Montevideo, and the coastal resorts like Punta del Este, and Maldonado, where many  expats and foreigners hangout.  In fact, there are two entirely different economies in Uruguay—one where nearly everything is priced in dollars (on the coast), and the other in the "interior" where life is still fairly backward, peaceful, rural, and cheap.   I always preferred the Interior, but within an hour or two's drive of the coast for access to culture and commerce.
Montevideo is very cosmopolitan and prosperous.  The people are cultured, well educated, and often from Italian, Spanish and German decent.  But you find people from all over the world there.  The climate is humid but fairly mild.  Even though the rain and cold of winter is penetrating, due to humidity, it doesn't often freeze, and that's why palm trees survive along the coast.
Even though Uruguay is a semi-socialist country (like Brazil, Argentina, and Chile), its president doesn't live the high life as do the despised lady president of Argentina (Cristina Kirchner).  Incredibly, he lives in a common home and eschews all luxuries.  But, as a foreigner, if you have your own independent source of foreign income, you won't be subject to many of Uruguay's economic regulations and effects—unlike Argentina, where the bureaucracy is more intrusive and slower to respond—almost disdainful of foreigners.
All utilities are government owned and they tend to employ way too many people to "provide jobs."  As a result, government spending is always in deficit and there is constant inflation of the money supply—like every other nation. Prices for utilities are high, at least in the big cities.  It's not unusual for the electric bill in a small apartment in the capitol to be $100/mo.  However, the rates are somewhat cheaper in rural areas—perhaps they are subsidized more.
The common folk complain a lot, since most people are on some sort of government salary or pension, which never quite keeps up with inflation, even despite periodic increases.  This is one of the reasons people of all classes regularly trade their pesos for dollars, as a hedge against inflation.
Uruguay is not just a strategic destination for Americans.  It's in high demand for the middle class of Argentina and Brazil who are fed up with the corruption, politics and bureaucracy in their own country.  Even though most of these countries are run by socialists, the Argentine government makes a mess of most everything, and in Uruguay the government seems to relish making Argentina look bad by taking the opposite and usually more reasonable position—just to spite it's larger and more powerful neighbor.
So, whereas Argentina jumps on every environmentalist and anti-American issue they can, Uruguay welcomes nuclear power, a lot of free trade, and doesn't tax foreign income.  Argentina has to periodically put up artificial barriers at the border crossings with Uruguay to harass and delay those eager to leave Argentina and to punish Uruguay's border trade. Whereas Argentina gives you the feeling it is forever in a monetary crisis and hungry for other people's money, Uruguay tends to say "welcome," come and spend your money here and live hassle free.  Thousands of foreign nationals do just that.
It isn't quite as easy to get residency in Uruguay as it used to be.  Because of high demand the requirements have tightened up a lot and the residency process can take about a year.  You have to have a monthly income of over $500 and you must live in Uruguay the entire time you are applying for residency.  They do check up on that, so if you go, plan on staying and enjoying the country for a least a year during that application process.  Once you are granted residency, you only have to worry about paying your taxes back home.  Uruguay doesn't tax your foreign income.
Car prices are high in Uruguay because this nation concentrates on import duties.  They aren't as bad as they used to be, but that is why many Uruguayans and expats like to live in or near one of its many border towns with Argentina (Salta, Paysandu) or with Brazil (Rivera).  You can't evade the car duties, but you can have access to the cornucopia of agricultural and commercial products that are manufactured in either of these two manufacturing powerhouses, simply by walking across the border or bridge.
Property prices, particularly, are high in the coastal area because so much money has come in from the wealthy of Brazil and Argentina, driving prices beyond the reach of most Uruguayans.  So, don't expect to find any bargains in the first world sector of Uruguay.  But, as a general rule, the farther away on the coast you get from Montevideo and the resort town of Punta del Este, the better your chances of finding less expensive land and housing (Colonia Swiza to the south, and Rocha to the north).
To find peace and reasonable prices you have to move into the interior.  But the price you pay for living rural is that you have to become fluent in Spanish.  They speak the "Rio Plata" dialect of Spanish in Uruguay and Argentina, which is noted around the world as rather "cool" especially among Spanish speaking intellectuals.
Interior towns that have reasonable access to Montevideo are Santa Lucia and Canelones.  The deep interior towns are all agricultural centers that cater to the cattle and sheep industry.
Liberty wise, Uruguay is opposed to the surveillance mentality of the US and Europe.  It only requires tracking when entering and leaving the country.  You do not have to present the equivalent of your SS number as in the states, although you do have to have a "carnet," once you get residency—a small internal identification document in case you get in trouble with the police.
As in all foreign moves, I don't recommend giving up US citizenship, and everyone should always have a backup plan to return home if things don't stay the same in these foreign havens—which is quite probable.  When the next world war comes, forget about getting electronic access to your money, and you may not be to get access to money even if in a local bank—that is why people all over the world store dollars at home.
Latin America will go with either Russia or China in the next war (at least at the beginning) and no nation will be free from the dictates of the global tyrannical government that will be the result of this next war—which is the long-term threat to liberty. So, as you search for retreat property in the states, both as you main or backup strategy, be sure and check out the survival properties for sale at Strategic Relocation.
Survival Retreat Consulting: When considering a strategic relocation to a foreign country, it's almost a requirement to learn the language to be successful, and there is no excuse for not doing so. Not only will this help you integrate faster, it shows respect and allows you to understand business transactions, and daily security, as many folks will think you have no idea what they are saying, a key when you first arrive and are struggling to find your way.
A short note about firearms, as all of us se them as a key to the ultimate survival strategy no matter where we live. Unlike Costa Rica, where it's a bit easier to import and obtain permits for your semi-automatic weapons; Uruguay is bit stricter about this, especially for those migrating to the country. This is something to seriously consider.
According to a Dialogo News report;  "To legally own a gun in Uruguay, one must receive a permit from the Ministry of Internal Affairs and register the weapon with the Ministry of Defense. An Authorization to Purchase and Own Weapons (THATA) is also required. In order to obtain a THATA, the applicant must be 18 or older, possess a certificate of good conduct, pass a medical exam with a psychologist in good standing, submit income records and attend a firearms safety class."
This process can take up to a year. The penalty for owning/possessing an illegally smuggled firearm can be up to 12 years in prison, so if you think buying one on the street until your approved is a way around this, especially as a foreigner, the answer is nada. It would be very risky and not worth the prison time. Overall, the total number of homicides in 2011 was 199 (5.9 per 100k), with only 93 of those involving firearms (3.43 per 100k). The homicide rate in the US for 2011 was 4.7 on average.
What about keeping a bug out retreat in the US? Mr. Skousen is correct. Do not take this decision lightly. Some of our consulting clients will keep a small homestead someplace in the US when they Expat. Normally this consists of a safe room/shelter for secure storage built under a small cabin with a discreet entrance to the 'basement'. The can will be a normal 500sqft to 800 sqft structure with a wood cook stove and supplied with all the off grid accessories needed if one were to arrive on a shoe string. The alternative energy systems and all valuables are placed in the basement safe room area for long-term storage, and the property in some cases is watched over by a caretaker in another unit, depending upon the clients' financial situation. Some folks Expat with a few dollars to spare and others leave in a private jet, either way, cutting all ties with the US is not recommended. It's amazing how fast your mind may change and you'll yearn for that sunset over the Rocky Mountains at your retreat in the American Redoubt, or your chosen locale!
Moving off shore is a much bigger proposition than you think, so be sure to contact Mr. Skousen for an in-depth analysis on your situation. He is the subject matter expert.
This briefing and analysis has been contributed by Joel Skousen and the Strategic Relocation web site.