On June 19, 2010 China agreed to let their currency the Yuan (also known as the Renmimbi) once again float against the US dollar. For almost exactly 2 years the Chinese have held their currency to a fixed exchange rate with ours, but due to pressure from the US government China finally agreed to lift the peg. The US government got what they wanted, but perhaps they should be a little more careful what they wish for.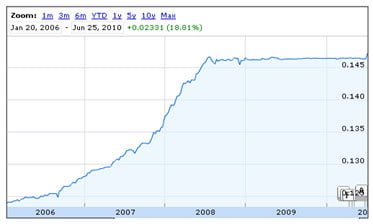 As you can see in the chart above, before the peg was established in July 2008, the Yuan was steadily appreciating against the dollar. Therefore, it is logical to assume that now that the peg has been lifted it will continue along its path of strengthening again.
What does this Mean for the Future of the US and Chinese Economies? A weak currency has its up side and down side. China keeping the Yuan artificially low was beneficial for exports because their goods were nice and cheap, but it was bad for those holding the Yuan because of its lack of purchasing power. Now that the Chinese have agreed to let the Yuan appreciate, the incentive to hold their currency goes up (both by the Chinese and those in foreign countries) but exports will suffer as a result. On the flip side, holders of US dollars (who should already be worried about their currency being devalued as it is) will now be even less likely to hold them as they watch their purchasing power begin to diminish even more rapidly. However, the US government encouraged the Chinese to lift the peg so that we can enjoy a higher demand for our exports. Some may ask "Is this really such a bad thing? This should help our economy get back on its feet, right?" Before we jump to that conclusion lets first look at the relationship we have with China.
Chinese Imports vs. American Exports. We import more goods from China than any other country. To test the truth of this, walk around your house and pick up as many random items as you can, turn them over and see where they were made. Whether its picture frames, nick nacks, clothing, shoes, coloring books, paper clips, dishes, furniture, etc. the highest percentage of goods in your home most likely come from factories in China. China, as a production based economy, has become a net exporter of goods (meaning that they have trade surpluses). We, on the other hand, import a whole lot more than we export to China and everywhere else. And since our currency enjoys world reserve status, we are able to run up massive trade deficits without any immediate consequences. In other words, China is basically the antithesis of the US in that, while we underproduce and overconsume, they have a culture of overproduction and underconsumption.
Peter Schiff recently opined on China's currency move on CNBC recently: "We've received a huge subsidy, and still do, from the Chinese. That subsidy is now being withdrawn. I think people are going to be surprised by the magnitude and the speed with which the Renmimbi appreciates [against the dollar]. Initially it will be slow, but as the Chinese government begins to comprehend the benefit to their economy with a stronger Renmimbi, I think they will loosen the reigns… and for America that means higher prices." He goes on to say how the free market will definitely take the Yuan much higher, if China lets it, and what that means for the US, "The [Chinese] currency needs to go up dramatically to reflect the true productivity of Chinese workers… this move is eventually going to pull the rug out from under our phony economy."
Will the Chinese Continue to Purchase US Treasuries? Schiff says "no". Now that the dollar's future is in question and the Yuan is on the rise again, where is the incentive for China to continue to lend to us? "The reason that China has been buying so many treasuries is because they had to recycle all the dollars that they purchased to prop up our currency and suppress their own. But as the Chinese let the Renmimbi appreciate they don't have to buy as many treasuries. So we have to find somebody else [to create a demand for our debt] but there is nobody else." says Schiff.
What if China Steps Out of the US Treasury Market? Two possibilities then lie before us: higher interest rates to lure new investors or the Federal Reserve will have to step in as the main buyer. Some say that the former is not even an option right now because of what higher rates will do to our economy, therefore the latter is the only immediate possibility. Eventually, a combination of the two is the most likely scenario. As the Fed becomes the main buyer of US debt (in other words, as we monetize our debt), inflation then kicks into high gear because we are basically just printing money at an incredible rate at that point. To try and curb this inflation, higher interest rates will soon follow. When this happens you should already be well positioned in commodities; mainly precious metals. When the rest of the world finally figures this out, the gold rush we will have will be unlike anything we have ever seen. Let not your heart be troubled. If you make the right moves now you will survive; maybe even thrive.
Bye for now, Schaef
---
The Schaef Report is an independent newsletter contributed to SHTFplan.com by Mr. A Schaef. You can receive the Schaef Report in your inbox. It's Free! Subscribe below by providing your name and email address and you'll be automatically added to the monthly distribution list. The Schaef Report and SHTFplan.com take your privacy very seriously and will not distribute or share your email address with other parties.
Error: Contact form not found.