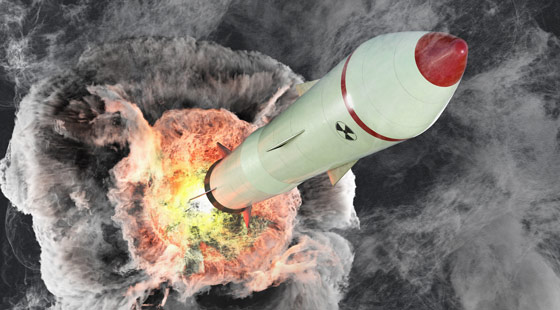 Russin submarines have recently carried out a mock nuclear attack against their "enemies." The Russian government has released footage of the atomic strike and it is sparking fears that the third world war is quickly approaching.
The Russian Ministry of Defense (MoD) has published shocking videos that show a range of nuclear missile drills including a submarine carrying out a mock atomic strike. These videos are the latest in a series of escalating war-games ordered by Russian President Vladimir Putin, according to The Express UK.
The video appears to show the crew of a Russian submarine following the steps to unleash a retaliatory strike with an atomic bomb. The missiles are seen firing out of the Arctic waters in the Barents and Okhotsk seas. A Northern Fleet commander is seen giving orders to his crew, with a submariner confirming: "Yes sir, a rocket launch."
According to officials, the drills were "designed for retaliation against an enemy attack." NATO has already responded to ramping up war tensions.  Admiral James Foggo, the head of US Naval Forces in Europe and Africa, has said: "The Kalibr class cruise missile, for example, has been launched from coastal-defense systems, long-range aircraft, and submarines off the coast of Syria. They've shown the capability to be able to reach pretty much all the capitals in Europe from any of the bodies of water that surround Europe."
Foggo has warned of Russia's submarine capabilities in the past. According to The Telegraph UK,  Foggo told Pentagon reporters, "while the Russian Navy knows it cannot compete on the level of aircraft carriers and larger surface vessels, "they have continued to do research and development and recapitalize the undersea domain."
"They see it as one (in) which there is a challenge, and that challenge is the United States Navy and the United States submarine force," he continued. "I can tell you that we hold an acoustic advantage and we will continue to do that," he said, referring to the listening technologies that allow sailors to locate subs.
A Russian defense ministry spokesperson spoke about the drills.  "By order of President Putin, supreme commander of the Russian Armed Forces, strategic nuclear forces exercises have been conducted. All tasks of the exercise were accomplished. All designated targets at the Kura Chizha, Pemboy, and Terekta testing ranges were destroyed," the spokesperson stated.