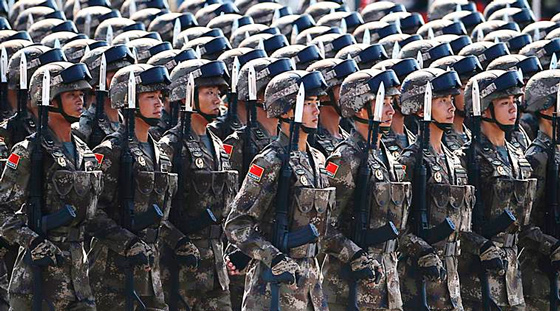 Chinese tanks, soldiers, and military trucks have been gathering on the border in preparation for a war. The Chinese military was quickly rushed to the border they share with North Korea after being told to get "ready for war."
According to the Daily Star, the People's Liberation Army (PLA) forces have been building up military assets in the cover of the night around the Tumen River in Yanji city, Jilin province, which borders North Korea. Chinese commanders are reported to have recently conducted the so-called "war ceremony" – urging their troops to be ready to fight as columns of PLA trucks have been pictured on the move near Yanji City which is close to the triple border between China, Russia, and North Korea.
China is North Korea's only traditional ally and has been coming under pressure to tackle Kim Jong-un from the US.  Sources cited in Chinese media have claimed that the PLA is "preparing for war on the Korean Peninsula." China would be expected to use its military forces to help quell a flood of refugees should the United States initiate an attack North Korea and chubby dictator, Kim Jong-Un. Beijing is also expected to quickly move into the rogue state to seize assets, and potentially have China join the war on the side of North Korea once the US begins a so-far theoretical attack.
According to Zerohedge, if the media report is accurate, it would suggest that China – fearing the worst – is preparing for a full-blown war on the Korean Penisula. Previously, internal documents leaked from China's main state-owned telecommunications company shows three villages and cities in the northeastern border province of Jilin, have been designated for refugee camps-if war breaks out. China is afraid a swarm of refugees from North Korea could cross the Tumen River into China.
Zhang Liangui, a professor of international strategic research at the Communist Party's Central Party School said, "it is highly possible that there is a conflict between North Korea and the United States now. What China does here is to be prepared for any kind of situation happening on the Korean Peninsula."
While China prepares for a ground war on the Korean Peninsula by moving military assets to border cities along the Tumen River, there is another threat breaking Tuesday morning: North Korea is preparing to test the largest ICBM to date. Coupled with  im Jong-un's "Happy New Year" threat to the world when he warned the "nuclear button" is on his desk, this could be the beginning stages of a third world war.
US president Donald Trump has warned there would be "no friendly solution" until China stops backing North Korea.