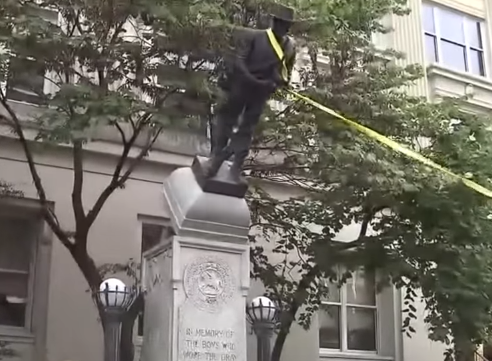 Ever since the Charleston Church shooting, the Left has been obsessed with purging every element of Confederate iconography in this country. No flag, statue, or bumper sticker has been safe. They want it all gone. The fact that most people who sport the Confederate flag aren't racist at all, and merely view the flag as a totem of southern pride, matters not. The fact that statues of Confederate soldiers and generals are a part of our history, also doesn't matter. To people who view everything in life through the lens of race and oppression, these symbols are offensive and must be erased.
This irrational rage culminated this week after the protest in Charlottesville, Virginia, which was a rally to protest the removal of a Robert E. Lee statue, turned violent and led to the murder of a one counter-protester at the hands of James Fields.
In response to that incident, a seething leftist mob gathered around a Confederate statue in Durham, North Carolina on Monday, and tore it down.
There are of course, several things that are seriously wrong with what they did.
First, we have to think about what this obsession with destroying Confederate monuments will lead to. If we're going to erase every monument to people who owned slaves or were just racist, where does the buck stop? How long before these people start to demand that we tear down monuments to every founding father who owned slaves (of which there were many)?
It seems likely that whoever was leading this event, was probably not actually concerned about the association with this monument to racism. The end goal of these leftists is to tear down our history, and only recognize major American figures for the worst things they did. They want us to hate and demean the people who built this country, and preferably, erase them from the history books. Tearing down Confederate monuments is just the first step.
But what is perhaps the most despicable thing about this incident, is their choice to tear down this particular monument. In case you don't know, this wasn't a monument to a particular individual. It wasn't a statue of a historical figure who was responsible for specific misdeeds. Though that wouldn't excuse the rabid destruction of this monument, at least it would have been something to be angry about.
No, this was a war memorial to every Confederate soldier who died in the Civil War. Look at the video again and read the inscription on the monument. It reads "In Memory Of The Boys Who Wore The Gray," and nothing more. It was flanked by memorials for soldiers who died in World War One, World War Two, Korea, and Vietnam.
It's simply a monument to thousands of young men and boys who fought honorably for what they believed in, as bad as that cause may have been in hindsight, and died under horrific conditions that most of us can't even begin to imagine. What is wrong with that? What is wrong with simply memorializing the fact that a lot of people were cut down in their prime during America's most destructive war?
It wasn't a monument to racism, or slavery, or oppression. It was just a token of respect to people who fought and died in an awful war, and it was just torn down by a bunch of sniveling self-righteous infants who've probably never had the guts to put their lives on the line for anything in their entire lives.