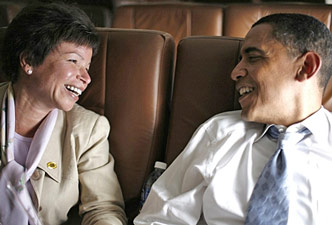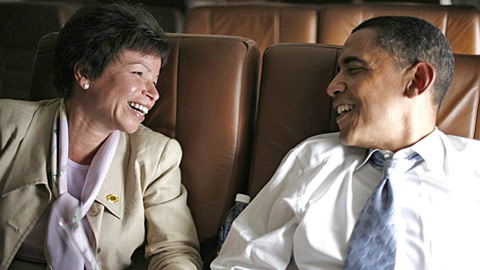 (Pictured: Top White House Advisor Valerie Jarret With President Obama)
According to a new report from The Daily Mail former Secretary of State Hillary Clinton's latest email scandal was leaked by none other than top White House operative and Obama confidant Valerie Jarrett in an effort to derail Clinton's 2016 Presidential bid.
Though President Bill Clinton lent his support to Barack Obama during the 2008 election, it appears that the Obamas and Clintons have a tenuous relationship at best. At worst, there is an all out war happening behind the scenes and members of the Democrat Party are no doubt being asked to take sides.
If reports are to be believed the President and Valerie Jarrett are prepared to eat their own and will stop at nothing to keep Hillary out of the White House.
The recent leak of details regarding Hillary Clinton's use of personal email servers to send official and possibly classified information is just the tip of the iceberg.
The feud is so serious that there are currently six active probes into Hillary Clinton's dealings during her tenure as Secretary of State, including investigations into foreign government funding of her and Bill's Clinton Foundation in exchange for favors.
The New York Post is reporting that Valerie Jarrett, one of President Barack Obama's top advisers, leaked details of the story to the press through outside sources hoping it would not trace back to the White House.

What's more, the entire thing was timed to become public just as Clinton was planning to announce her candidacy for president.

Sources claim that the long rumored tension between Obama and the Clintons hit a high when during the midterm elections many members of the party refused to be seen campaigning with President Obama.

Jarrett is reported to have commented this was because the Clintons had begun 'marginalizing the president' and that they were 'trying to wrestle control of the Democratic Party away from Obama.'

Because of this she reportedly went out of her way to exact revenge, working to get Monica Lewinsky high profile press opportunities and frequently complaining about the Clintons.

…

He [Bill Clinton] then added; 'The Obamas are behind the e-mail story, and they're spreading rumors that I've been with women, that Hillary promoted people at the State Department who'd done favors for our foundation, that John Kerry had to clean up diplomatic messes Hillary left behind.'

It seems like it is not over yet either, as there are reportedly six more probes currently going on that are looking into Clinton's performance.

Bill, upon learning of this, reportedly said to a friend; 'The Obamas are out to get us any way they can.'
It is about time the Clintons are held to account and there would be no better outcome then to see Hillary Clinton totally discredited.
But make no mistake, the Clintons have spent decades successfully navigating an environment that has left countless corpses lying on the political battlefield.  If President Obama has made mistakes they will no doubt take the opportunity to destroy his legacy if given the chance to do so.
You reap what you sow and many Americans would love to see the complete and utter destruction of Hillary Clinton's political career. But the same could be said for President Obama, whose ousting from the White House over a major political scandal would be a dream for millions.
Let the battle begin.
Ideally, both the Clintons and Obamas are prepared for mutually assured destruction, wherein both families are forever driven from America's political landscape. Their deep-seeded disdain for each other may be just what America needs.
Look for more scandals, investigations and perhaps indictments to appear over coming months as two of the most egotistical and ruthless politicians in the world go to war.