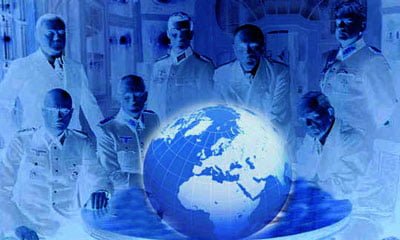 Due to the inability of elitists to come to a conclusion on how to spend money they don't have, the United States government "shut down." But, the hard truth is that during a "government shutdown" only about 25% of the government actually shuts down.
Only "non-essential" functions are actually shut down. Of course, that begs the question: why are there non-essential government functions to begin with?  Nonetheless, on the whole, the majority of the government is open.
According to Joe Joseph from The Daily Sheeple, "even with the government shutdown, it would take a long time before it really starts getting ugly." So basically, people are panicking for no reason.
 "Don't get me wrong, those 25% [of civil servants] who are affected, I'd hate to be in their shoes right now," Joseph continued. "But I have to say that the majority of Americans that live in this country deal with a measure of instability when it comes to employment that civil servants don't normally or are not subjected to."  Be that as it may, politicians are the problem here.  This isn't right or left, it's politics and corruption that is fueling discussions and arguments about how to spend money they don't have.
"I hate politcians. I just do. I mean, I'm sure some of them are very well intentioned, don't get me wrong. But on the whole, you've gotta be a really shady, sneaky, snake to be a politician. A lot of people wonder why don't men and women of honor ever run for office. It's because they don't wanna be caught dead around that place because of how corrupt and how bad it is and how much of a risk it would be for them to become corrupt if surrounded by a bunch of corrupt crocks and thieves and criminals. And that's what they are! Let's be totally and completly clear."
Joseph also explained that government and civil servants are held to a much lower standard than those who choose to live their lives as freely as possible.
"We get villified, raked over the coals for the smallest things by government and by law enforcement and these people get awat with literal murder. Their decesions have profound effects on the lives of millions of Americans and they just don't care."
But to understand the shutdown, one should understand what type of person makes up "the government" and the many different types of money involved.  It would take so long to make any sort of impact because funds have already been appropriated.  So all the fear mongering is simply that and nothing more.
"This shutdown shouldn't scare anybody. If anything, this is what's SUPPOSED to happen when there is disfunctionality within governemnt. This is what's supposed to happen when you don't see eye to eye on things. You've gotta negotiate. Sometimes it can get nasty. But, I can tell you that this government shutdown and others like it, have been hyped in the past and it takes months before you really start to feel the pinch.  Before you really start to feel that burn."
All of this is true.