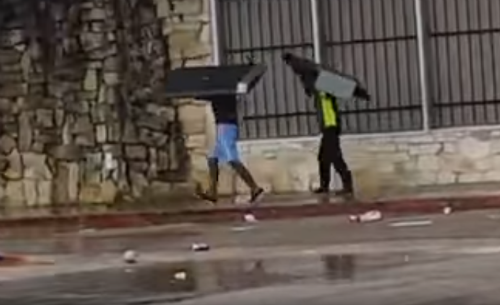 The tragedy of the storm that struck Texas over the weekend has been punctuated by countless stories of heroism and selflessness. Both private citizens and public servants are working around the clock to make sure that the victims of Hurricane Harvey are safe and secure. But as with every disaster, there is always some element of society that will take advantage of the chaos. We're beginning to see that now in Houston, where the first reports of lootings are starting to emerge.
At the moment the police are spread thin across the city, and have been too busy with relief efforts to properly address the problem.
The Houston police dispatched officers on boats that were sent through streets where the floodwater reached the pumps at gas stations, and officials said they had conducted waves of rescue operations. While urging residents to stay off the roads, police have asked people with high-water vehicles and boats to assist in rescue efforts.

In Houston, the fire department responded to more 4,000 water-related calls for service. Police rescued 2,000 people in the city, and another 185 critical rescue requests were still pending, Art Acevedo, the Houston police chief, said at a news briefing Monday.
Still, they've managed to arrest four of the looters so far.
'We've already arrested a handful of looters. We've made it real clear to our community we're going to do whatever it takes to protect their homes and their businesses,' Acevedo told ABC News. 'And when people come from the outside to Houston, Texas, know we're going to be out in the city, we're not going to rest as a police department or law enforcement community until people restore their lives.'
Given the small number of looters who have been arrested, it's safe to say that what's happening in Houston stands in stark contrast to what happened after Hurricane Katrina struck the Gulf Coast. New Orleans devolved into anarchy during that disaster, and thefts became so common that the police were told that they could shoot looters.
Still, it took a couple of days before the lootings really kicked off in New Orleans. Depending on how quickly order is restored in Houston, and how quickly the authorities deliver aid to the victims of Hurricane Harvey, what we're seeing now could either be just the beginning, or the end of a storm induced crime spree.
Related:
Here's A Rundown of All the Looting and Robbery Incidents That Occurred During the Oroville Evacuation
Total Breakdown In Less Than 24 Hours: Images and Videos of Missouri Riots and Looting
A Guide to Looting When the SHTF (and Your Counter-Strategies)
Egypt: Vigilante Groups Form to Protect Local Communities Amid Riots, Looting