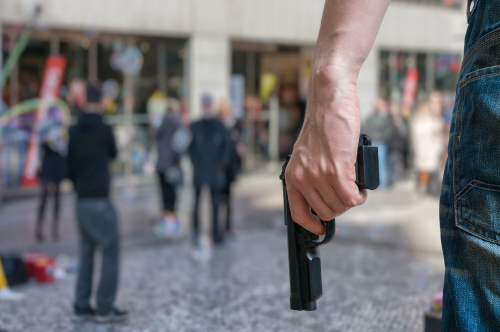 Gun owners are often accused of engaging in wild, action movie fantasies when it comes to mass shootings and terrorist attacks. People who support more gun control say that it's silly to think that anyone other than a highly trained soldier or police officer is equipped to deal with these situations, and that armed civilians are more likely to hurt themselves or bystanders, than take down an active shooter.
However, I'd argue that it's the gun grabbers who are the most guilty of engaging in fantasies. Rather than let ordinary civilians be armed in public, they cling to the belief that it's better to run or hide from crazed killers. Or worse, they think it's acceptable to force civilians into situations, where they'd have to fend of an armed attacker without a gun.
To give you an idea of what a world where law abiding citizens can't carry guns would look like, check out this video that was made by ABC7, shortly after Representative Steve Scalise was shot last week. The news agency sent out one of their reporters to a gym where a black belt (they don't say which martial art this woman has mastered) is teaching people how to fight mass shooters. If this video doesn't convince you that a gun is the best tool for dealing with an active shooter situation, then nothing will.
Yep. I'm sure that would go smoothly in real life. According to the video, here is what you, an unarmed civilian, should do when faced with a mass shooter:
Step 1 – Be lucky enough to be in a position where you could stealthily sneak up behind a lunatic with an AK-47.
Step 2 – Push him to the ground. Don't worry, he won't resist or move at all. He'll totally let you take his gun and toss it aside.
Step 3 – Gently slap him in the back of the head repeatedly until he gives up (presumably from boredom).
So who's the crazy fantasist now? The gun grabbers who think that you can slap a murderer into submission? Or responsible gun owners with conceal carry permits, who can take down an active shooter long before the police arrive?