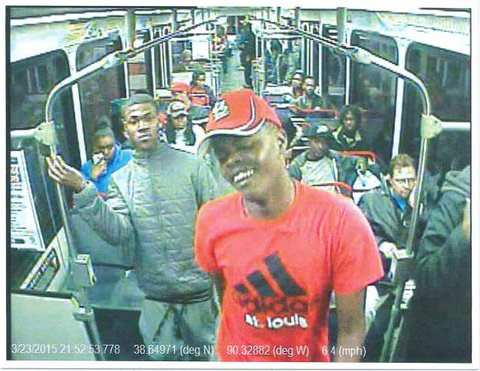 The following video depicts three black men beating a white man on a metro train. There has been no outrage from Jessie Jackson or Al Sharpton, so we can safely assume this was just random violence and the attackers and victim just happened to be of different skin color. Otherwise, we're sure there'd be calls by the Justice Department for investigations into the matter and protest swarms would be gathering across St. Louis.
The Truth Revolt reports:
The unnamed victim, 43, recounted the story to a local station. He said that one of the men (red shirt) asked to use his cell phone. When he said no, the suspect sat down and asked his opinion on the Michael Brown incident.

The victim said, "I responded I was too tired to think about it right now."

The video begins just after the angered 20-something stood up and began ranting. Suddenly, he attacks the victim, delivering at least 13 punches to the man's head. For the entirety of the assault, the victim was seated, protecting his head.

As the train pulled into the station, one of the other suspects joined in the beating. As the doors opened, the main suspect delivered a final kick to the defenseless man before exiting the train.
In a follow-up report by Paul Joseph Watson, the 43-year old man now identified as David Autry says that the worst thing about the beating was that not only did no one come to his aid or contact police, but that people were laughing during the incident.
Responding to the incident, the unnamed victim told KMOV, "I think it was disgusting that no one [helped]," people were sort of laughing and smiling about it. No one offered to help and no one attempted to call 911."

The victim suffered numerous injuries, including a laceration on his nose, bruising on his face and forehead as well as a broken bone in his hand.

Video footage of the assault features the person filming the incident laughing and also picks up the sound of passengers sat near the victim laughing.

The victim has started a GoFundMe campaign to help him buy a motorcycle so he doesn't have to take the train. The money will also be used to help other victims of assault in the area.
Would there be outrage if the seated victim were a black man being beaten by three white thugs, or is it now OK in America for white people to be targeted simply because of the color of their skin?
We're anxiously awaiting a press conference about pending civil rights investigations from Attorney General Eric Holder.