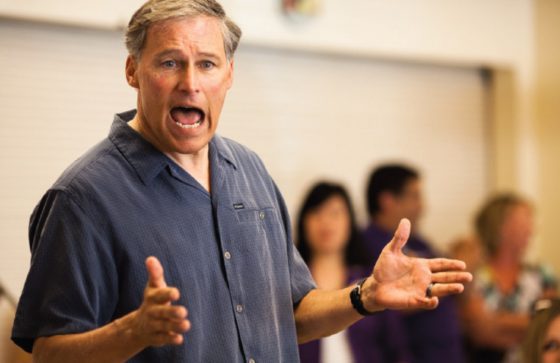 Washington Governor Jay Inslee took to Twitter to warn his followers that they have a mere 59 days to save children from global warming.  The Tweet, which was posted yesterday, is meant to scare readers and the Washington legislature into enacting a carbon tax.
According to the Daily Caller, the state legislature's session ends in 59 days, on March 8. Democrats have a slim majority in both state legislative chambers. Inslee wants lawmakers to pass a tax on carbon dioxide emissions from power plants and industrial facilities.
We have just 59 days to do our part to save our children from an endless cycle of crop-killing droughts one year, and rivers spilling their banks the next. To save salmon from dying in ever warming rivers, and our forests from being reduced to plumes of ash.

— Governor Jay Inslee (@GovInslee) January 9, 2018
Inslee's plan would tax carbon dioxide emissions at $20 a ton in 2019, that would gradually rise at 3.5 percent above inflation each following year. Inslee's office estimates it will raise $3.3 billion over the next four years.
About $950 million would go toward education programs. The rest would go toward green energy programs and research, water infrastructure, wildfire mitigation. Some money would offset taxes or go to poor families, but the bill isn't clear on this particularly murky additive to it.  The plan could raise household electricity prices five percent, and gas prices by about 10 percent, according to official estimates
Half of the money from the tax  (which would be paid by power plants and fuel importers but would ultimately be passed onto the consumers) would go into efforts to "reduce greenhouse gas emissions."
"So, yes there will be impacts on fuel and energy prices, but we expect these to be modest and fully within the range of what would be expected by normal price fluctuation," said Lauren McCloy, a senior energy policy advisor in Inslee's office who is trying to ease people into accepting more extortion and theft.
At least some people have actually read the "science" behind "climate change."
https://twitter.com/NikolovScience/status/950930731680722944
What Inslee is proposing is simply a tax on his own constituents no matter how any politician spins it. It will affect the consumer.  It won't actually help reduce the global warming he claims they only have 59 days to stop. And it really is too bad most Americans cannot see through this charade.  Inslee wants a tax.  That's it. Politicians don't care about "global warming."  If they did, it would have been over by now – but they can't exploit the issue for more money either.
Even if Inslee's carbon tax plan passes, the legislation would have no measurable impact on projected future global warming. In fact, even if the United States as a whole stopped emitting all greenhouse gases, the impact would be extremely small, based on the government's own climate models.
Inslee's first carbon tax plan failed in 2016 after liberal groups couldn't agree how to spend the stolen money it was expected to get. Inslee also proposed a cap-and-trade program, that both Democrats and Republicans rejected in 2015. It sure looks like Inslee just wants to destroy Washington's economy and steal as much as he can from those residing in the state of Washington.
Democrats are always coming up with fascinating new ways to steal people's money.