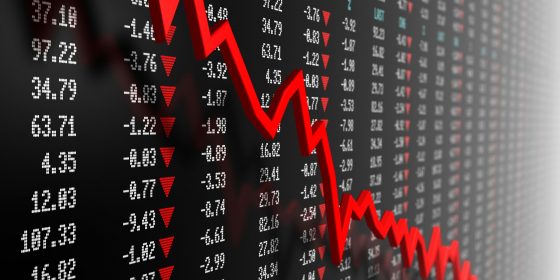 Vanguard's chief economist Joe Davis said investors need to be prepared for a significant downturn in the stock market, which is now at a 70 percent chance of crashing.  That chance is significantly higher than it has been over the past 60 years.
The economist added, "It's unreasonable to expect rates of returns, which exceeded our own bullish forecast from 2010, to continue." In its annual report, the company told investors to expect no better than four to six percent returns from stocks in the next five years.  Vanguard, which manages roughly $5 trillion in assets and is a proponent of long-term investing, isn't sounding the alarm bells to scare investors out of the market.  They simply want investors to be prepared.
"The risk premium, whether corporate bond spreads or the shape of yield curve or earnings yields for stocks have continued to compress," said Davis. "We're starting to see, for the first time… some measures of expected risk premiums compressed below areas where we think it can be associated with fair value."
'The Great Crash of 2018' will start in the deeper, darker depths of credit market – strategist https://t.co/DaGVSlSVqn pic.twitter.com/DQdUpPtzH1

— RT (@RT_com) November 19, 2017
According to RT, Davis also said that overreaching is no better a solution for a lower-return environment than getting out of the market entirely. He expressed worries that after hearing of "lower returns," some investors will view that as a catalyst to become more aggressive to generate the returns they have been used to in recent years.
"You need to stay invested, because of lower expected returns," Davis said, adding "Don't become overly aggressive. The next five years will be challenging, and investors need to have their eyes wide open."
Just ten years after the 2008 financial crisis "very little has been really fixed," and the next bubble is about to burst, says Bill Blain, a strategist at Mint Partners. According to Blain, this time, it is the bond markets that will trigger the mayhem and collapse. The 2008 crisis, which was about consumer debt, was triggered by mortgages. We still have a consumer debt crisis problem ahead, warns Blain, but the next financial crisis is likely to be in corporate debt.
"I'm convinced bond markets are the REAL bubble we should be watching, and it's going to start in high yield…" Blain warned.