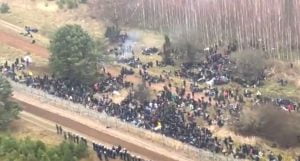 The biggest attempt to enter Poland is underway. A "massive" wave of migrants has reached Poland's border from Belarus, with the country's special services describing it as the largest-ever attempt to enter the country by force. The migrants amassed at the border are predominantly young males, Stanislaw Zaryn, the spokesman for Poland's Minister-Coordinator of Special Services said on Monday.
Despite what mainstream media continues to say about migrants being women and children, we've seen video after video of them. The majority are "fighting-aged" males.  That goes for the mass migrant trains that attempt to cross into the United States over the Mexican border. Sleeper cells? I have no idea. That's just speculation and only one perspective.
Polish authorities accused Belarus of trying to spark a major confrontation on Monday and said they had mobilized additional soldiers as footage on social media showed hundreds of migrants walking towards the Polish border, according to a report by Reuters.  In one video, shared by the Belarusian blogging service NEXTA, migrants carrying rucksacks and wearing winter clothing were seen walking on the side of a highway.
"The group of migrants gathered in a large crowd by the Belarusians comprises mostly young men. The biggest attempt to date to enter Poland by force has just begun," Zaryn said on Twitter.
Very disturbing information from the border. A large group of migrants has gathered in Belarus, near the border with Poland.

They have just moved towards the border of the Republic of Poland. They will try to enter Poland en masse. https://t.co/K9mqSEvvJc

— Stanisław Żaryn (@StZaryn) November 8, 2021
Tensions are high across the globe with chaos being orchestrated and a rush to enact a permanent global slave system being both tied together. This is obviously a turning point in history. It's time to decide if we will be slaves or if we will be free.
The situation in Poland-Belarus has been extremely tense since June, after Belarusian President Alexander Lukashenko announced Minsk would no longer make any effort to stop the migrants, primarily originating from the Middle East, who seek to reach the EU through his country. Both Poland and Brussels have repeatedly accused Belarus of directing and shuttling the migrants toward the border, claiming it was a form of hybrid warfare by Minsk. –RT
Everyone on Earth is on edge right now and it wouldn't take much to pop off a violent conflict.