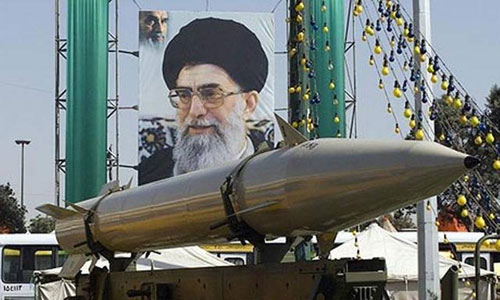 Speaking at the Ministry of Defence in Tel Aviv, Israeli Prime Minister Benjamin Netanyahu claimed Iran was continually expanding the range of its ballistic missiles.  Israel also claims that they have proof that the Iranian government has a secret weapons program.
Netanyahu showed a video that he said was taken from Iran's top-secret nuclear facility in Tehran. The Israeli Prime Minister said the new evidence proved that the Iran nuclear deal signed in 2015 by President Obama was "built on lies," according to The Daily Star. 
The news comes just hours after Israel closed off its airspace on its northern border as a response to a supposed threat from Iran.
Netanyahu said he was "sure Trump will do the right thing," because of Israel's claims that the 2015 nuclear deal made by former president Barack Obama is being ignored by Iran.   "After signing the nuclear deal in 2015, Iran intensified its efforts to hide its secret files. In 2017 Iran moved its nuclear weapons files to a highly secret location in Tehran."
*The following video appears to be a little quieter than average, so you may have to turn up your speakers.
Speaking in English, Israel's leader showed pictures and videos supposedly of some historic secret Iranian nuclear facilities, as well as Iranian documents and plans to develop atomic weapons. Netanyahu claimed Israel had gotten a hold of half a ton of files on Iran's nuclear program and also added that the Iranian government was keeping up its nuclear weapons program for future use. Netanyahu added that he had personally shared the intelligence information with the United States, which it allegedly confirmed as true.
However, it is highly important to note that most of the evidence presented by Netanyahu was from before 2015 and therefore before the signing of the nuclear deal.
According to Fox News, President Trump called the Iran nuclear deal a "horrible agreement for the United States" in response to Prime Minister Netanyahu's bombshell allegations about Tehran's covert activity, but he stopped short of saying whether he'd abandon the deal ahead of a looming deadline.
Trump addressed the claims made by Israel during a Rose Garden press conference Monday afternoon, moments after Netanyahu held a dramatic presentation revealing intelligence he says shows Iran is lying about its nuclear weapons program. "That is just not an acceptable situation," Trump said. The president added that Netanyahu's claims show Iran is "not sitting back idly."
"They're setting off missiles which they say are for television purposes," Trump said. "I don't think so." Trump has repeatedly expressed a desire to exit the Iran deal, which was signed during the Obama administration. A crucial deadline for re-certifying the deal is on the horizon.