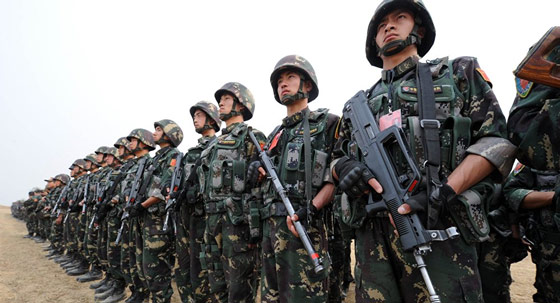 When the Chinese state-run media suggested that their country was two weeks away from possibly going to war with India earlier this month, they probably weren't expecting a childish brawl between their armies, but that's exactly what happened a few days ago. Footage of a scuffle between Chinese and Indian soldiers in the disputed Ladakh region of Northern India has surfaced, and spread far and wide on social media. It shows the soldiers beating and grappling with each other. Some accounts have suggested that the Chinese soldiers carried rocks and iron rods.
#FirstOnThePrint Video of Indian & Chinese soldiers clashing at Pangong lake in Ladakh on August 15. @manupubby pic.twitter.com/qzZvVYFfjX

— ThePrint (@ThePrintIndia) August 19, 2017
Initial reports claimed that the Chinese forces were the aggressors, and the Indian border guards had repelled them. However, now both governments are pretending that the incident never occurred. India has refused to confirm or deny that the brawl took place, and Chinese officials are flat out denying it.
According to PTI, China said that it was "not aware" of reports of PLA soldiers entering Indian territory and said it is "committed to peace and tranquillity along the border." Chinese Foreign Ministry spokesperson Hu Chunying said, "I am not aware of the information." She said the People's Liberation Army (PLA) troops always patrol along the Chinese side of the Line of Actual Control (LAC)."We urge the Indian side abide by the LAC and relevant conventions between the two sides," she added.
There's a very good reason for that response. As ridiculous as this incident may appear, it also represents a dire threat. Wars have been started over far less, and if both governments deny it happened, then they don't have to address it. If they tried to confront each other over this fight, it could lead to the most devastating war in human history. At least it looks like both sides are trying to avoid that outcome.
Related:
Billions Of Lives Are At Stake As China Threatens India With War
Two Weeks From War: China And India Brace For Conflict Over Border Dispute
Chinese Billionaire Warns America: China Has 25,000 Spies Who Are "Ready To Destroy The U.S."
China Issues Dire Warning On North Korea: "Sooner Or Later It Will Get Out Of Control And The Consequences Would Be Disastrous"