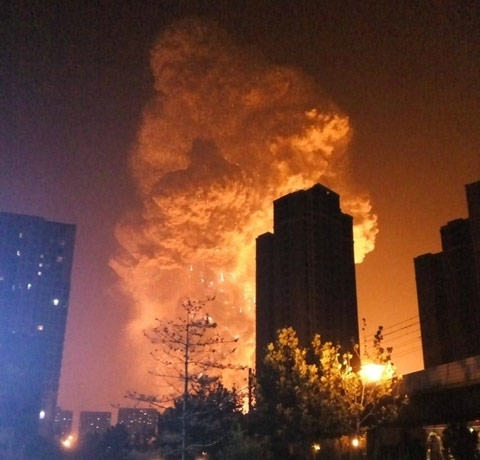 A massive explosion has rocked Tianjin, China killing 42 people and injuring 400 others. Reports say that the blast was so powerful it created a mushroom cloud and triggered an earthquake that was felt up to six miles away.
State broadcaster CCTV reported that the blast — which created a huge mushroom cloud and triggered a quake that could be felt up to six miles away — happened at Tianjin Dongjiang Port Rui Hai International Logistics Co. Ltd., which handles the transport of hazardous goods. (Source)

….

Seven people were killed and hundreds were injured Wednesday night in two massive explosions caused by flammable goods at a container terminal in northern China's Tianjin municipality.

…

They said the explosion have shattered windows doors, shook their apartment buildings and sent people to the streets. Some have reported chemical gas leaks.

…

The China Earthquake Networks Center reported that the first explosion had a 2.3 degree magnitude (equivalent to 3 tons of TNT), and the second had a 2.9 degree magnitude(equivalent to 21 tons of TNT).

Source: The People's Daily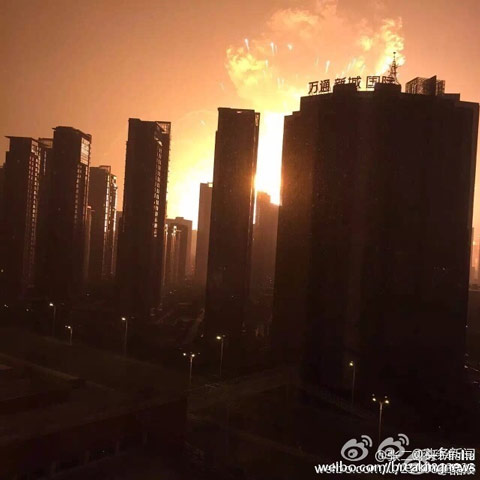 Several days ago explosions rocked northern Iran, with early eye witness and news reports indicating that a meteor was to blame for what one witness called destruction on an unimaginable scale. Most interesting about the event in Iran is that neither NASA or the mainstream U.S. media mentioned it in their daily news briefs.
In China, officials claim that the cause of the mushroom cloud explosion was the result of flammable goods.
Also Read:
The Prepper's Blueprint: A Step-By-Step Guide To Prepare For Any Disaster
The US Government Is Prepping For Unlikely Events Like War, Catastrophic Collapse of Society, and Even Asteroids
Shadow Government Bunkers: Security Heightened at Underground Storage Facilities
Why Has NASA Announced That A Meteor Is NOT Going To Hit The Earth In September?