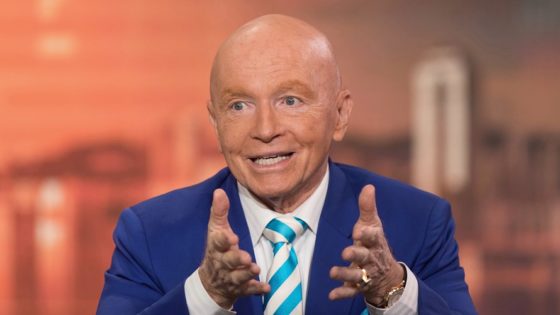 According to veteran investor Mark Mobius, there may be a financial crisis coming down the pipes after the United States decided to fire more shots in its trade war with China.  Mobius says the trade war is simply a warm-up for the impending financial crisis.
"There's no question we'll see a financial crisis sooner or later because we must remember we're coming off from a period of cheap money," said Mobius while in an interview in Singapore, according to Bloomberg. "There's going to be a real squeeze for many of these companies that depended upon cheap money to keep on going." The dispute between the U.S. and China will probably worsen too. President Donald Trump is unlikely to suffer a huge blow-back from his tariffs, as their inflationary impact will be matched by rising U.S. wages at a time when unemployment is low, Mobius said.
Mobius also thinks emerging markets will decline yet another 10%, and that may not even be the bottom. The MSCI Emerging Markets Index will likely fall from current levels by year-end, predicted Mobius, who left Franklin Templeton Investments earlier this year to set up Mobius Capital Partners LLP. That would tip the gauge, which has fallen around 16 percent from a peak in late January, into a bear market.
But other expert investors believe we are already in a bear market.  Take Peter Schiff, for example, who thinks the economy is in much worse condition than the talking heads in the mainstream media care to report.
"The thinking is – at least when it comes to trade – is that the dollar is going to benefit from a trade war, which I think is wrong. I think it's just as wrongheaded as the concept that the dollar is going to benefit from larger budget deficits," Schiff said, according to Seeking Alpha. 

President Donald Trump has levied even more tariffs on Chinese imports in retaliation for China's retaliation after the US announced its first round of tariffs. A lot of people seem to think this is bullish for the dollar and as a matter of fact, the greenback has surged in recent weeks. But in his latest podcast, Peter Schiff said this is a bunch of nonsense. "The force will not be with us," is the aptly named podcast in which Schiff discusses the collapse of the United States dollar. –SHTFPlan
Central banks have begun hiking interest rates too in response to the economy. But hikes are a "short-term fix" and they could be counter-productive for countries with high amounts of debt (like the United States), Mobius said, adding that governments need to put their finances in order to restore investor confidence.
Mobius then predicted that there will be a few "winners" in the trade war, but the United States will not be one of them.