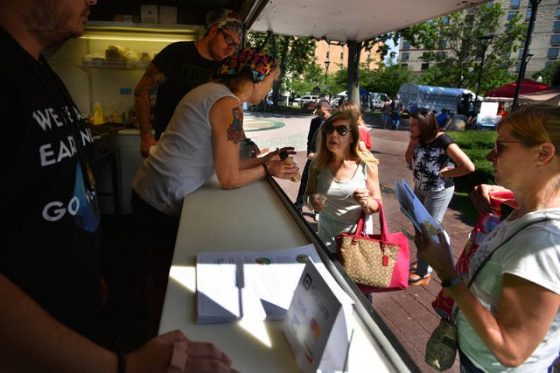 Delinda and Kyle Jensen have always been open to talking to customers about the opinions they have at their Mother Nature Vegan Cuisine food truck. But their opinions have now resulted in death threats since the comments made about the Las Vegas shooting did not go over very well.
Delinda Jensen, who is 60 years old, has gotten several death threats after posting this Facebook comment: "Yes I am jaded. Fifty-nine meat eaters dead. How many animals will live because of this?" She then made a comment under that same post that said: "I don't give a (expletive) about carnists anymore."
According to the Washington Post, Jensen has since deactivated her Facebook account, hidden her food truck, and canceled all of her bookings. She has also installed a security camera at her home. Her son said people have driven by their home shouting threats and obscenities, and they have had to call the police several times out of fear for their safety.
Jensen said she became a vegan two years ago and started the Mother Nature Vegan Cuisine food truck with her son. She said she was trying to make the point that she believes animals are tortured and killed unnecessarily for their meat, however, now the former adjunct history professor at Marywood University said she is living in fear since her post set off an intense and immediate backlash on social media last week. Many Facebook users shared Jensen's post, which generated hundreds of hate-filled comments and threats with very little defense of her stance.
But she also says she's sorry, and regrets making the post on Facebook. "Was it poorly written? Absolutely. Do I regret it? Yes. I am so sorry I wrote that," she said. "Meat eaters or not, no one deserves to die like that. I wasn't celebrating the death of those people."
"I (expletive) up," Jensen said while sitting at her kitchen table with son and business partner, Kyle.  Jensen tried to explain her motivation for writing the post, by saying she wanted to make the point that too many animals are tortured and killed every year. She estimates 20 billion-plus animals are killed for human consumption yearly. Jensen said people can eat good food without the inhumanity of abusing and killing innocent animals. She also said that just one vegan translates into saving 155 animals per year.
"It's almost like a lynch mob is forming," said Jensen. "It seems that it's no longer about the Facebook post — now it's about eating meat." Jensen is still angry at herself for what she called "a moment of stupidity." She felt her vegan business was doing good things for people; like giving them a healthy alternative to meat. Jensen would bring her truck to Public Square on Mondays and it was very popular. "We even gave food to the homeless for free," she said. But now, "We're done. We canceled all of our booked events. We had a really good product, too."
"We are not bad people," she said. "We are aware that there are people on social media who have been trying to organize groups to come after us." So at night, Jensen and her son lock all the doors and turn out the lights. They leave porch lights on so security cameras can record anyone trying to get near them. "I'll just take it one day at a time," she said. "I understand the tragedies of history — there's never anything to celebrate. I never once felt 'Yay, yippee, 59 people are dead.'"
But that isn't how those who read her post felt on social media. "I did write an apology on Facebook right after the post went up," Jensen said. "It didn't matter. People were already running with it." Kyle, who has a degree in culinary arts, is sure he will find another job, but his mother may be out of work for good. "I'm not mad at my mom," he said. "We are a family. We've been through a lot. But people have destroyed our business."
"This was our life and now it's gone," she said. "I'm so scared to go out anywhere."