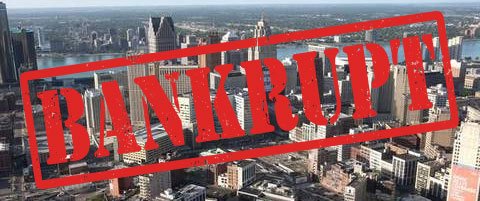 Though a decade ago civil servants and union members would never have believed it could happen, the stark reality of the situation came to pass this morning.
We now know the answer to the question: What happens when a government makes promises it can't keep and borrows so much money it can never be repaid?
This morning a judge overseeing the City of Detroit's fiscal sustainability ruled that the City can be afforded bankruptcy protection, meaning that all 100,000 of its creditors now stand to lose a significant portion of monies owed to them.
The most notable victims are the tens of thousands of retirees living off of pensions – many of whom will see an 80% obliteration of the retirement funds they believed they'd receive until they died.
Creditor attorneys have repeatedly speculated they expect Orr's plan of adjustment to mirror the June 14 proposal he offered creditors to avoid bankruptcy. That deal proposed giving unsecured creditors such as pensioners and bondholders a $2 billion note for $11.5 billion in estimated debts — or less than 18 cents for every dollar owed.
Most of those affected assumed the government would simply find a way to borrow more money or fabricate it out of thin air. They were wrong and now they are paying the price:
"Oh my, oh my. Everyone is worried. When we think about what could happen, it's scary," said Larsen, 85, who moved to Palm Harbor, Fla., outside of Tampa after he retired in 1976.

"If they take our health insurance? Oh god. Cutting pensions? It's terrible. The city of Detroit was our pride. Honest to goodness. We loved it."

…

"We are all worried," said Nancy Schmidt, the group's secretary. "This is going to affect everyone in different ways. If it comes to fruition, I've got two empty bedrooms and I may end up having to rent them out."

…

"My net pension is $2,300 a month," said Kammer, 77, who moved to Englewood, Fla., not long after retiring with a disability in 1977.

"I could make it for a while, go through savings, but pretty soon, I'd end up in bankruptcy."

…

"(Retirees) feel like something that they've earned and were promised is being taken away from when they're not in a position in their lives to plan for it and fight back," Plecha said. "They're at a time in their lives when they're most vulnerable."
Detroit is the first and they have now set a precedent for other cities in similar situations. You can be assured that more will follow.
First it will be the cities. Then the states will go under. And finally, the Grand-Poobah – our own Federal government. Detroit's debts are pocket change compared to the $200 trillion in future liabilities owed by the United States of America.
If you are depending on a government retirement package to be there for you for the rest of your life, you'd better think again. Over twenty thousand Detroit retirees thought the same thing – and as of today they have been wiped out.
When this crisis hits the Federal Government – and it will – you'd better be ready for them to take drastic measures. This means they'll be forced to not only cut retirement benefits promised to federal employees, but will make the case that if they have to give up their retirement funds, you'll have to give up your 401k, IRA or personal savings.
Sounds impossible, right? Congressional members have already gotten the ball rolling on a nationalization of America's retirement funds, and when they are ready to do it they'll pass the legislation just like they did when they seized 1/6th of our economy by nationalizing health care.
They are coming for the money – YOUR money – because they will be left with no other choice.
If you're not planning on a secondary income stream or preserving wealth in the form of gold and silver, productive land, or other tangible assets, you'll end up just like the retirees from Detroit. Having additional resources, like a well stocked long-term pantry and a preparedness plan for financial disaster, can mean the difference between living in poverty or thriving when best laid plans fall apart.
Plan for the worst, because that's what's coming.