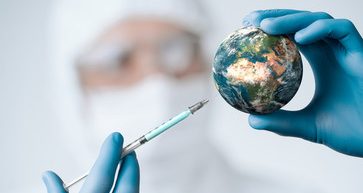 People have had enough of the injections and vaccine sales have plummeted. But big pharma's sales of the "vaccines" are expected to "rebound later this year." We all know what that means…
Fierce Pharma warned that when Johnson & Johnson said Tuesday that it would not project COVID-19 vaccine sales for this year, citing a "global supply surplus" and "vaccine hesitancy," the news sent a rumble through Wall Street that COVID vaccine sales could drop considerably this year as the world tries to shift from the pandemic to an endemic stage. But the ruling class has something up their sleeves because the "experts" are expecting vaccine sales to "rebound later this year."
Are they planning to "release" or propagate another variant that you'll need a shot for? Perhaps. Only time will tell. Maybe they just hope that the "renewed" spread of the virus will occur again in the fall and the rulers will be able to convince people to get another booster shot.
Cantor Fitzgerald's faith in the durability of the COVID vaccine market was further bolstered by the Centers for Disease Control and Prevention's (CDC's) Advisory Committee on Immunization Practices (ACIP) meeting Wednesday, which highlighted the potential for renewed spread of the virus in the fall and winter along with an increased need for booster shots.

"Additional boosters in the fall/winter could represent upside to estimates as well," Louise Chen wrote in a note to clients.
Analysts at Cantor Fitzgerald believe that the assumption that vaccine sales will diminish may be premature. "It's too early to call," Chen wrote. "It does look like the phasing of vaccine sales this year could be back-end loaded. We expect more focused discussions to take place on the need/framework for additional booster doses ahead of a potential fall/winter surge," the analysts wrote.
Are they alerting people to the possibility of more variants or a "surge" that will require another injection in the fall? Again, maybe. But it's too early to tell what exactly is in store for us down the road. Whatever it is, it will include more injections of the mRNA toxic sauce.