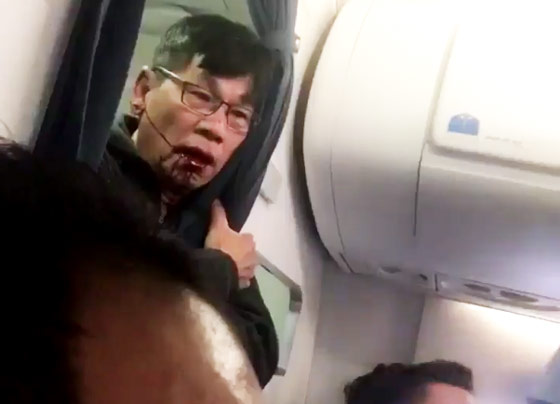 Several videos emerged Monday morning of a United Airlines passenger who was forcibly removed from the plane by security agents after the airline called for volunteers due to an overbooking issue.
The original videos show the man, who refused to leave his seat after he was randomly chosen to deplane in order for United to accommodate flight crews, being pulled from his seat by three security personnel. As he was pulled from his seat, his face smashed into an armrest. It appears that the man was briefly knocked out, as security had to drag him down the aisle of the plane by his arms.
Original Video:
Passengers were outraged by the incident.
According to a new report from Yahoo News, the man is reportedly a doctor who needed to see patients the following morning.
The man — who reportedly said he was a doctor and needed to get back to see patients in the morning — was forcibly removed after United overbooked a Sunday evening flight from Chicago to Louisville. According to passengers, United boarded the plane, and after no one accepted its offer to voluntarily give up their seats for four crew members, the airline said a computer would randomly select people. The man refused to leave, which led to security personnel dragging him from his seat.
In the latest video of the incident, the man is shown standing at the front of the plane, bloodied from when his face hit an armrest during the altercation. He can be heard repeatedly mumbling, "I want to go home."
A security officer standing nearby can be heard saying, "You've got to be fucking kidding me."
#flythefriendlyskies my husband was on that flight. Screw you United!! @united pic.twitter.com/4EcxrMy5jZ

— Kaylyn Davis (@kaylyn_davis) April 10, 2017
Though unclear, it appears that the man was allowed to remain on the plane, which according to the report, was eventually totally deboarded in order to clean up the blood left on the armrest and aisle:
@ulttgd They had to deboard to clean up his blood. pic.twitter.com/Hfs1DtqILv

— Kaylyn Davis (@kaylyn_davis) April 10, 2017