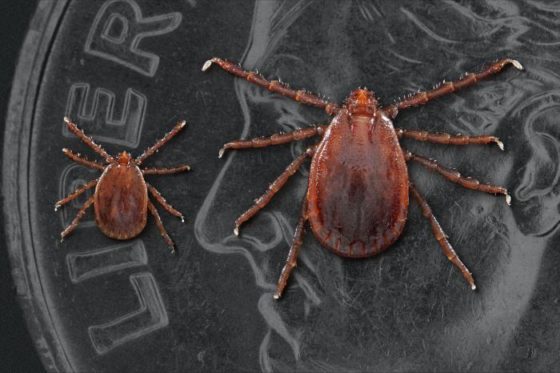 Scientists are saying that the number of Americans who could suffer from Lyme disease could skyrocket to 2 million by the year 2020.  Although little is known about the tick-borne illness, the problem is that the type of Lyme disease expected to affect people in the U.S. is untreatable.
Lyme disease is the most common vector-borne illness in the U.S. It is a condition caused by the Borrelia burgdorferi bacteria, which is spread by infected ticks. Those who contract the bacterial infection suffer several symptoms, such as a fever, headache, chills, tiredness, joint and muscle aching, as well as swollen lymph nodes. In many cases, patients experience an erythema migrans rash that can grow up to 12 inches around the area of the tick bite. Around 329,000 cases are thought to occur each year, although the true number of infections is thought to be higher, according to a report by Newsweek.
Most of the time, a doctor is able to prescribe an antibiotic and a person infected with Lyme disease will see their symptoms lessen and eventually pass.  However, sometimes the symptoms can linger in what is known as post-treatment Lyme disease (PTLD) or post-treatment Lyme disease syndrome.  The sufferer of this ailment will experience cognitive dysfunction, incapacitating fatigue, and chronic pain, according to the authors of the research published in the journal BMC Public Health.
By 2020, 2 million Americans could be affected by PTLD. Not only is the cause of this condition unknown, but the treatment is also controversial.  Some theorize that PTLD is caused when the bacterial infection disrupts the immune system, but it's just a guess. "Although antibiotic therapy cures most LD patients, a significant proportion of patients continue to suffer persisting symptoms that can derail normal life," wrote the team.
A conservative estimate made by the researchers suggested that 69,011 cases of PTLD occurred in 2016, which will gradually rise to 81,509 cases in 2020. In another model, the researchers accounted for cases rising from the 1980s combined with treatment failing in 20 percent of cases. That would see a prediction of 1,523,869 cases in 2016 and 1,944,189 forecast for 2020. –Newsweek
Although the research scientists admitted they are unsure which of the above numbers is more accurate, they did say more should be known about Lyme disease and PTLD regardless. "Nevertheless, our findings suggest that there are large numbers of patients living with LD-related chronic illness," they wrote. Accurate diagnosis is the next step toward helping those who suffer from this debilitating illness.
Prevention of Lyme disease involves prevention of a tick bite.  In order to reduce your risk of being bitten, stay away from wooded, brushy areas.  If you do venture outdoors in the warmer months, make sure to use bug spray on all clothing.  Flea and tick treatments should be considered if you have pets that spend time outdoors as well.