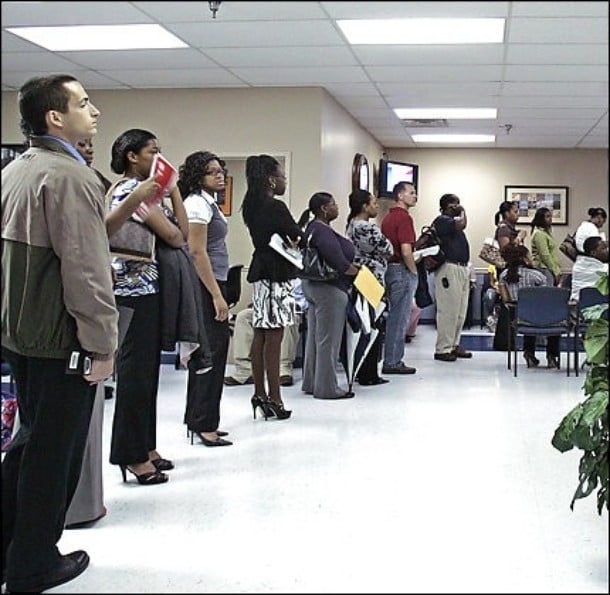 Source: Washington Post / Newsweek   |    Tallahasee, FL Unemployment Benefits Office
Bloomberg reports that Payrolls in U.S. Fell 36,000; Unemployment at 9.7% :
The U.S. unemployment rate held at 9.7 percent and payrolls fell less than forecast, indicating the labor market strengthened even as East Coast snowstorms forced some employers to temporarily close.
All looks well if we consider just the "unemployment" rate, but buried in the tenth paragraph of the article is what the government refers to as the "U-6" unemployment number, which is not looking so good:
The so-called underemployment rate — which includes part- time workers who'd prefer a full-time position and people who want work but have given up looking — rose to 16.8 percent from 16.5 percent.
Naturally, the mainstream media will report only the U-3 unemployment rate, and because we just went through a very difficult winter season, this will be touted as a huge plus and proof of our economic stability.
The fact is, as the underemployment number shows, people are still losing their jobs. Those who have given up because there are no jobs in the area in which they live are considered underemployed, not unemployed. And let's not forget the hundreds of thousands who continue to fall completely off of the unemployed and underemployed counts because they are no longer collecting benefits – these people, according to the governments numbers, no longer exist.
For an even more accurate unemployment reading, we direct viewers to John Williams' Shadow Stats. According to Mr. Williams, we did see an uptick in overall unemployment and are currently nearing 22%. That's ONE in FIVE Americans that are currently without work.
There simply cannot be any recovery until we have real, sustainable job creation, as well as a return to normal credit lending. None of these two things are happening – and they will not happen any time soon because we have yet to cleanse the system of all the bad debt that has been built up over the last several decades.
In a recent interview, Dr. Marc Faber suggested that he foresees an unemployment (U-3) rate of around 15% some time in the future. If this is the case, then we can probably project a real unemployment rate of 25% to 30% some time between now and 2015.
Does anyone still think we are out of this recession?