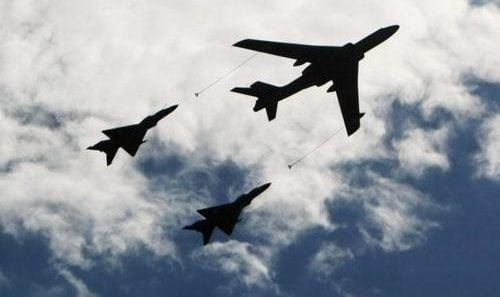 Ukrainian defense minister, Oleskii Reznikov, claimed that Kyiv is receiving more military aid amid the ongoing Russian "invasion." He won't say just how much assistance Ukraine is getting, instead, saying it'll be a "surprise" for Russia.
"I'm not going to comment on the deliveries of weapons and ammunition – it's a delicate moment. Let there be a surprise for the enemy. Know this: there's been a significant progress," Reznikov wrote on social media on Monday, according to a report by RT.
Ukrainian President Volodymyr Zelensky has been pleading with the West to set up a no-fly zone over Ukraine, or at least provide him with military aircraft. NATO countries have so far refused to do so, fearing a conflict with Russia.
This comes as Russia declares sanctions and designation of "no-fly zones" to be an act of war.
Putin Will Declare War On Any Country Creating A Ukraine No-Fly Zone "That Very Second"
The minister said Kyiv has purchased more than 50,000 helmets and flak jackets, including the uniforms made for NATO member states. On Sunday, CNN quoted a source saying that US Joint Chiefs of Staff Chairman, General Mark Milley, had inspected an arms shipment hub at an undisclosed airfield near the Ukrainian border. The "massive" shipment operation was coordinated by the US European Command"in real-time," the source said. It was reported that as many as 17 flights have been landing at the airfield each day.
European countries and the United States are all promising to help Ukraine with military supplies, weapons, and air defense missile systems. As the New York Times accurately published in an article about the race to arm Ukraine: "The United States has walked to the edge of direct conflict with Russia."
The rhetoric remains the same:
Moscow also said it was seeking "demilitarization and denazification" of the country, insisting that Ukraine should never become a NATO member.

Ukraine said the attack was completely unprovoked and denied the claim that it was planning to retake the breakaway republics by force. -RT
This could amp up any minute, it could be a distraction from something else entirely (a new COVID variant) or it could be leading up to a false flag attack that can be used as an excuse to start a full-scale hot world war. Anything is still possible, but the ruling classes of the world are carefully crafting their official narrative, and sadly, many are falling for it.