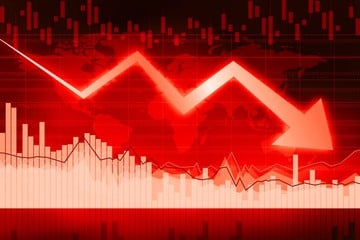 UBS said on Monday that the world's economy is on the razor's edge of a recession, meaning the Federal Reserve could cut interest rates soon. Central banks tend to ease monetary policy when there's a looming threat to economic stability, but it might not be enough to help this time.
All evidence shows that the United States and China's trade war is spiking fears of a recession, and rightly so considering the American consumer is paying the tariffs in the form of higher prices. As of yet, the world's two largest economies have not been able to strike a deal to end their trade dispute, and an additional $300 billion worth of tariffs are currently on the table, according to a report by Yahoo Finance.
USB said the Fed is expected to cut rates as early as next month, but are skeptical of overly positive outlooks. "U.S. tariff escalation is NOT our base case," the bank said. "But if escalation is not averted in the next week or so … we anticipate making major changes to our forecasts." It added: "We estimate global growth would be 75 [basis points] lower over the subsequent six quarters and that the contours would resemble a mild 'global recession'" that would rival Europe's debt crisis and the oil collapse of the mid-1980s, according to UBS analysts. "If we are right on the growth impact, all major central banks would ease," the bank's analysts wrote in their report, given the fragile state of the world's economy.
If the U.S.'s central bank decides to cut rates, the economy would be flying "dangerously low to the ground," said UBS, but it would potentially avoid a recession. It would take slapping tariffs on Mexico (something the U.S. narrowly averted earlier this month when Trump rescinded his plans to do so) for the Fed to cut rates to zero, and to restart asset purchases, the bank added.
However, there is a mountain of growing data that shows central banks are hopelessly trapped and there isn't anything they can do to ward off another recession.
A Tragedy Unfolding: This Is ALL Going To End Badly, Central Banks Are TRAPPED
According to Sven Henrich, the founder and the lead market strategist for NorthmanTrader.com, this regulation of the economy by the central banks is all going to end badly.  The fact of the matter is simple: central banks are hopelessly trapped.

Henrich says that it's only a matter of time before investors learn the hard way that this sudden capitulation by central bankers is not a positive sign, but rather a sign of desperation. In a recent article he wrote for his website Northmantrader.com, Henrich says this economic manipulation by the central banks is all going to end badly.

"Even some ardent bulls will freely admit this, the question is the how, when and the where. Frankly, it's a tragedy that's unfolding and discerning eyes can see it. –SHTFPlan
The best thing you can do is prepare yourself for what's coming. Understand what's happening and work toward fixing your personal finances so you can weather this unpredictable storm.