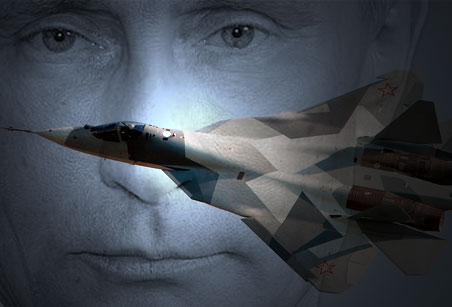 This article was written by Tyler Durden and originally published at Zero Hedge.
Editor's Comment: The United States isn't quite prepared to deal with the inconvenient truth of who it is funding in Syria. Yet Putin is prepared to call a spade a spade. It no secret that Putin is trying to use the West's dirty laundry from decades of phony terrorism against them.
It is known that funds and weapons are reaching both ISIS and the Free Syrian Army from the West through the Turkey border. This was illustrated with glorious irony and hypocrisy when ISIS Was Caught Firing American-Made Missiles At Syrian Army ("U.S. Funding, Arming ISIS From the Beginning"). Just as in Libya in the overthrow of Gaddafi, and the Taliban opposition to the Soviets that took place three decades back (crafted by then NSA advisor Zbigniew Brzezinski), extremist Muslim groups were serving an amorphous purpose for the United States in proxy war – providing a reason to send U.S./NATO troops into conflict, and creating a backdoor unit to undermine the real enemy. The right hand doesn't know what the left hand is doing, but they are attached to the same body. 
Propaganda War Begins: Russia's Syria Strikes Targeted US-Backed "Moderate" Rebels, West Says
by Tyler Durden
With the U.S. having officially lost control of the narrative in Syria now that The Kremlin has called Washington's bluff on the battle to eradicate ISIS and eliminate the Sunni extremist elements that threaten to wrest control of Syria from President Bashar al-Assad, the only remaining question after Russian lawmakers officially cleared the way for airstrikes was how long it would be before the Western media began shouting about Russian warplanes bombing targets that aren't affiliated with ISIS.
As we reported earlier today, Moscow wasted no time in launching its first round of air raids.
In turn, the West wasted no time in contending that Russia is targeting areas that aren't known to be strategically significant for ISIS. Here's a look at two headlines which do a nice job of summarizing all of the rhetoric which you're about to hear emanating ceaselessly from every corner of the Western world in the coming days and weeks:
U.S. IS CONCERNED RUSSIA'S INTENT IS PROTECTING ASSAD: KERRY
U.S. HAS 'GRAVE CONCERNS' IF RUSSIA STRIKES OUTSIDE ISIL AREAS
And here's WSJ with a sneak peek at the new narrative which Washington will be working hard to refine:
Russian President Vladimir Putin inserted his country directly into Syria's war Wednesday, as Russian forces launched their first airstrikes against what Moscow said were Islamic State targets in the Middle Eastern nation.

But Western leaders raised doubts about whether Russia really intended to take the fight to Islamic State, or merely broaden the Syrian regime's offensive against a wide range of other opponents.

For the U.S., the Russian strikes add new questions about the role of Russian forces in Syria. "While we would welcome a constructive role by Russia in this effort, today's [meeting in Baghdad] hardly seems indicative of that sort of role and will in no way alter our operations," a U.S. official said.

Warplanes targeted Islamic State military hardware and weapons stores, a spokesman for Russia's Ministry of Defense told official news agencies hours after Russian lawmakers approved a request by Mr. Putin to allow the use of force abroad.

Framing the attacks as part of a fight against terrorism, Mr. Putin said that Russia will support the Syrian army from the air, without any ground operations, for the duration of the Syrian offensive.

"The only real way to fight international terrorism…is to act pre-emptively. and not wait till they [terrorists] come to our home," Mr. Putin said in televised comments. He called for antiterror cooperation with other states through the Russian coordination center in Baghdad.

The official Syrian Arab News Agency reported Wednesday that Russian airstrikes hit areas under Islamic State control in Homs and Hama provinces, including the cities of Al Rastan and Talbiseh, near the town of Salamiyah, and the villages of al-Za'faran, al-Humr Hills, Eidoun, Salamiyah and Deir Fol. The strikes had successfully targeted Islamic State, SANA said, without elaborating.

But with the exception of the area east of the town of Salamiyah in Hama province, none of the areas listed by the Syrian regime have a known presence of Islamic State fighters. They are largely dominated by relatively moderate rebel factions and Islamist groups like Ahrar al-Sham and the al Qaeda affiliate the Nusra Front.
Yes, "relatively moderate rebel factions like al-Qaeda" (check the above, WSJ actually said that) which in July kidnapped the commander and deputy commander of the Pentagon's ragtag group of US-trained rebels that was supposed to number in the thousands by now but has been reduced to just "four or five" men and which was humiliated last Friday when the remaining fighters were forced to surrender their pickup trucks and ammo to al-Nusra in order to "secure safe passage" to who knows where.
Considering that, and considering the "solid" relationship the US has always maintained with al-Qaeda, it sure would be a shame if a few al-Nusra operatives wound up as collateral damage in Russia's air campaign.
Then there's The Telegraph with an epic attempt to spin the news with a single headline: "Putin defies West as Russia bomb 'Syrian rebel targets instead of Isil'".
Meanwhile, France – who recently went full-propaganda by using "self defense" to justify its newly launched Syrian bombing campaign – is out expressing its consternation about which groups Russia is bombing. Via Reuters:
France said it was "curious" that Russian air strikes in Syria on Wednesday had not targeted Islamic State militants and a diplomatic source added that Moscow's action appeared aimed at supporting President Bashar al-Assad against other opposition groups in the country's civil war.

The diplomatic source said it was in line with Russia's stance since 2012 that until there was a viable alternative to Assad, Moscow would not drop its support for him in the war that began in 2011 after a government crackdown on anti-Assad protests.

"Russian forces struck Syria and curiously didn't hit Islamic State," Defence Minister Jean-Yves Le Drian told lawmakers.

A French diplomatic source said the strikes, which seemed to have been carried out near Homs, an area crucial to Assad's control of western Syria. 

"It is not Daesh (Islamic State) that they are targeting, but probably opposition groups, which confirms that they are more in support of Bashar's regime than in fighting Daesh," the source said, speaking on condition of anonymity.

"We shall see what they do with their other strikes," the source said.
And then Germany (which, much to Moscow's chagrin, recently announced it's set to receive a shipment of new US nukes) jumped on the bandwagon. Via Bloomberg:
German Foreign Minister Frank-Walter Steinmeier says Russia needs to explain its aims in carrying out airstrikes in Syria. 

"In this highly charged situation in Syria there's a big risk that there will be further misunderstandings between the partners, all of whom are needed to calm the situation"

"I hope that this isn't slamming shut all the doors that were laboriously opened in recent days, including in talks between President Obama and President Putin"

"Only coordinated action can lead to a solution. Military action along won't help us overcome the Syrian crisis. We have to get into a political process. We need the neighbors, Russia, the U.S., and we in Europe can be helpful, too."
There are two things to note here. First, there isn't anything "curious" about this and Vladimir Putin has made no secret of his intent to keep the Assad regime from falling. Indeed, it's not clear what else Putin could do besides invite Charlie Rose for a two hour interview and explain three separate times that Moscow intends to support Assad. Second, Germany's suggestion that Russia is "slamming shut all the doors to cooperation" is ridiculous to the point of absurdity. As the events that have unfolded over the past several weeks have made abundantly clear, it is the West that has slammed the door shut on Russia when it comes to cooperating to fight ISIS and the reason for Washington's trepidation stems directly from i) wanting to oust Assad at all costs even if it means allowing the extremists operating in Syria to remain active until the regime falls, and ii) the fact that no matter what line The White House trots out to the public, the US views the Russia-Iran "nexus" as far more dangerous to America's geopolitical ambitions than ISIS and therefore, allying with Washington's two fiercest foreign policy critics simply isn't an option even if such an alliance would swiftly eradicate Islamic State.
And of course the narrative wouldn't be complete without some on-the-ground Skype "intelligence". Here's Reuters:
Russian air strikes in northwest Syria which Moscow said targeted Islamic State fighters hit a rebel group supported by Western opponents of President Bashar al-Assad on Wednesday, wounding eight, the group's commander said.

He said the fighters were hit in the countryside of Hama province, where the group has a headquarters.

"The northern countryside of Hama has no presence of ISIS at all and is under the control of the Free Syrian Army," Major Jamil al-Saleh, who defected from the Syrian army in 2012, told Reuters via Skype.

Saleh said his group had been supplied with advanced anti-tank missiles by foreign powers opposed to Assad.

The Homs area is crucial to President Bashar al-Assad's control of western Syria. Insurgent control of that area would bisect the Assad-held west, separating Damascus from the coastal cities of Latakia and Tartous, where Russia operates a naval facility.

"In the early morning this aircraft conducted air strikes in Latamneh city. One targeted a civilian area, and the other targeted al-Izza," Saleh said, referring to his group which he said were set up around two years ago and has 1,500 fighters.

He declined to give further details on the exact location of the strike but said the bombs hit a cave which the group used as a headquarters and was near the front line with the regime in northern Hama countryside.

"Each strike had 8-10 missiles and there were two strikes so there is no way it was an accident," he added.
No, it probably was not an accident, but what the Western powers want you to believe is that because they steadfastly refuse to acknowledge what's going on even when it is patiently explained to them by The Kremlin, then anything that happens is thereby a mystery.
The bottom line going forward is that the US and its regional and European allies are going to have to decide whether they want to be on the right side of history here or not, and as we've been careful to explain, no one is arguing that Bashar al-Assad is the most benevolent leader in the history of statecraft but it has now gotten to the point where Western media outlets are describing al-Qaeda as "moderate" in a last ditch effort to explain away Washington's unwillingness to join Russia in stabilizing Syria. This is a foreign policy mistake of epic proportions on the part of the US and the sooner the West concedes that and moves to correct it by admitting that none of the groups the CIA, the Pentagon, and Washington's Mid-East allies have trained and supported represent a viable alternative to the Assad regime, the sooner Syria will cease to be the chessboard du jour for a global proxy war that's left hundreds of thousands of innocent people dead.
This article was written by Tyler Durden and originally published at Zero Hedge.