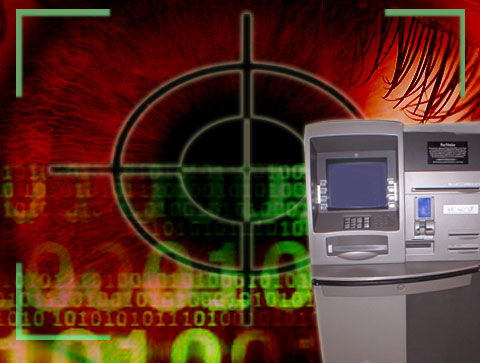 During the war on terrorism, Americans compromised their liberties to fight for freedom. Now, during the war on immigration, Americans will again be compelled to sacrifice liberties for American sovereignty.
In the name of security, anywhere, anytime. All measures will be justified, everyone will be authorized and the population will be controlled.
That is the moment we have arrived at in America.
A combination of policies that President Obama put into place, as well as fresh executive orders put in place by President Trump's executive orders, have created a new front in the world of national security. They are now using biometrics to verify passport and identity, in the name of cracking down on immigration.
Additional scrutiny, and an over-bearing scent of gestapo is again cropping up in airports, as yet another layer of surveillance is added to the line up.
Here's a look at one version of the machines now being tested and phased in at airports and other checkpoints:
Both visitors from abroad, and American citizens alike have now been required to submit to biometric iris scans in order to board a flight. Wow.
via Jeffrey Tucker of the Foundation of Economic Education:
For some 15 years, airport security has become steadily more invasive. There are ever more checkpoints, ever more requests for documents as you make your way from the airport entrance to the airplane. Passengers adapt to the new changes as they come. But my latest flight to Mexico, originating in Atlanta, presented all passengers with something I had never seen before.

We had already been through boarding pass checks, passport checks, scanners, and pat downs. At the gate, each passenger had already had their tickets scanned and we were all walking on the jet bridge to board. It's at this point that most people assume that it is all done: finally we can enjoy some sense of normalcy.

This time was different. Halfway down the jetbridge, there was a new layer of security. Two US Marshals, heavily armed and dressed in dystopian-style black regalia, stood next to an upright machine with a glowing green eye. Every passenger, one by one, was told to step on a mat and look into the green scanner. It was scanning our eyes and matching that scan with the passport, which was also scanned (yet again).

Like everyone else, I complied. What was my choice? I guess I could have turned back at the point, decline to take the flight I had paid for, but it would be unclear what would then happen. After standing there for perhaps 8 seconds, the machine gave the go signal and I boarded.

I talked to a few passengers about this and others were just as shaken by the experience. They were reticent even to talk about it, as people tend to be when confronted with something like this.

I couldn't find anyone who had ever seen something like this before. I wrote friends who travel internationally and none said they had ever seen anything like this.

I will tell you how it made me feel: like a prisoner in my own country. It's one thing to control who comes into a country. But surveilling and permissioning American citizens as they leave their own country, even as they are about to board, is something else.
This isn't required for all flights, yet.
This writer encountered a Homeland Security / U.S. Customs and Border Protection test at select airports… they are still working out the kinks.
But the question is, after all the frustrations that Americans had with flying after 9/11, and watching their liberties sacrificed at the alter security, after dealing with ridiculously long lines – are Americans now willing sacrifice even more liberties and submit their biometric scans?
Unfortunately, they may be.
As a general mass, Americans have proved underwhelming in their opposition to invasions of privacy on the part of private corporations, especially those online and in computing and communication devices. They have also shrugged off and become immune to fifteen years of airport harassment and additional checks and scans.
Now, iris scans might even one day make security faster – but it's a devilish tradeoff, and an enormous trust of power an agency that was created into existence out of the 9/11 emergency atmosphere, and which grows only when feeding the machine fear and terror.
Update: a reader has pointed me to this page at Homeland Security:

As part of U.S. Customs and Border Protection's (CBP) border security mission, the agency is deploying new technologies to verify travelers' identities – both when they arrive and when they leave the United States – by matching a traveler to the document they are presenting. CBP's goal is to enhance national security and protect a traveler's identity against theft through the use of biometrics.

Biometric information (such as finger, face, or iris) measures a person's unique physical characteristics. CBP incorporated fingerprints for biometric identification and verification in 2004, and is now testing facial and iris imaging capabilities to help improve travelers' identity protection, the integrity of our immigration system, and our national security.

I happened to be on the "one daily flight" that gets exit scanned.

[…]

What people don't often consider is that every rule that pertains to immigration ultimately applies to emigration as well. Every rule that government has to treat immigrants a certain way also necessarily applies to citizens as well.

Chandran Kukathas is right when he says that "controlling immigration means controlling everyone." (source)

It looks like their tests have so far met with very little resistance, and all signs green, as support for Trump's new order of police, border, military and security agencies are given new mandates to enforce laws, and take necessary measures to control borders, verify individuals and protect the country. That's the narrative, and Americans are cheering it on with very little forethought about the consequences it could hold.
For now, Americans are willing to accept new controls.
That is, if nobody reawakens to the massive civil liberties issue that is going on.
Welcome Aboard, But First US Marshals Will Scan Your Retina,BECAUSE YOU ARE NOT FREE

Read more:
Under UN 2030 Plan, "Biometric ID Required For Everyone" On the Planet
TSA Administrative Directive: Opt-Outters To Be Considered "Domestic Extremists"
Special Ops Armed with Rapid DNA Scanners: "Get Ready for Advanced Biometric Warfare"
Want Cash? Next-Gen ATMs Demand Biometric Verification: "Smartphone and Eye Scan To Dispense Money"