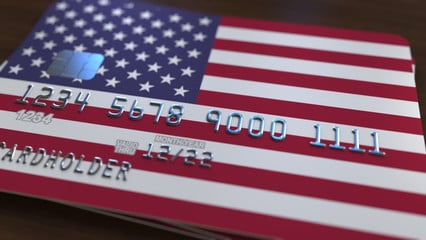 Debt levels reached record levels during the Great Recession which struck the United States about a decade ago. Now, U.S. consumer debt has surpassed those levels with a record number of Americans living on the edge of disaster.
According to Market Watch, Ben Mohr, a senior research analyst of fixed income at investment consultant Marquette Associates, calculated that total U.S. consumer debt hit $14 trillion in the first quarter of 2019, surpassing the roughly $13 trillion of leverage accumulated in credit cards, auto loans, and mortgages and other debt back in 2008, when those souring loans and securities pegged to them helped to send global markets into a tailspin.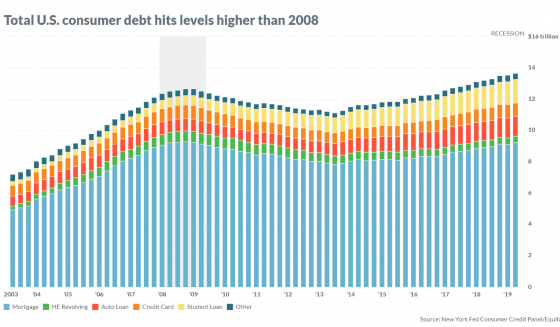 It appears that Americans' appetite for more will never cease. Mohr told MarketWatch that the increase in student loans (often cited as a source of consternation for economists and strategists) saw a notable spike. At the end of the first three months of 2019, student loan debt hit $1.486 trillion, according to credit data from the New York Federal Reserve. By comparison, student loan debt at the height of the financial crisis was $611 billion. It has been rising incredibly since Mohr said. "It has ballooned and that's a dramatic increase," the fixed-income analyst said of the student-debt expansion.
Mohr also highlighted the ratio of debt Americans now carry. He estimated the ratio of debt compared against the U.S. population (estimated at 327 million according to U.S. Census Bureau data) translates to a record per-person debt ratio at $41.77, surpassing the ratio of $41.68 back in 2008. Mohr says consumer debt isn't a huge concern just because the GDP (gross domestic product) is growing. However, he did fail to mention what happens as debt rises and there's a sudden drop in GDP.  That would be a massive collapse.  Therefore, U.S. consumer debt is always worrisome, especially when it reaches historic levels.
Low interest rates have helped people to keep their debts repayable, even as most live paycheck to paycheck without enough in savings to cover emergencies.  This suggests that one small "blip" in this economy could send the house of cards crashing down.
Economic expert James Davis says now is not the time to pile on more debt.  In fact, the opposite should be happening. Davis suggests paying off your debts right now, as a crash is inevitable, regardless of the timing.
This can be done now, without knowing when the markets will collapse. Start paying everything off and hold off on new debt until more is known about the upcoming market crash.  Now is not the time to make rash or risky decisions. If you play the game right, you will be able to leverage during the crash and profit from it.

While no one really knows the timing of the next stock market crash, it could be this summer or next, but what we do know is that there are ways to protect your money even if you are invested in the stock market. –James Davis, Future Money Trends
Carrying liabilities through a recession is not the way to gain assets. Preparing for any financial downturn (recession, job loss, medical emergency, etc.) should all begin with the elimination of your debts, according to personal wealth experts. Once that's achieved, an emergency fund of some sort should be set up – whether you choose precious metals or a savings account is up to you. Both have merits, and we like Davis' advice: diversify.
If you need help getting past the point of living paycheck to paycheck, follow James Davis at Future Money Trends, or consider following Dave Ramsey's baby steps. Ramsey's Total Money Makeover is the simplest, most straightforward game plan for completely making over your money habits. And it's based on results, not pie-in-the-sky fantasies or get rich quick schemes.
https://www.shtfplan.com/headline-news/how-to-best-prepare-yourself-for-the-coming-financial-crisis_06282018