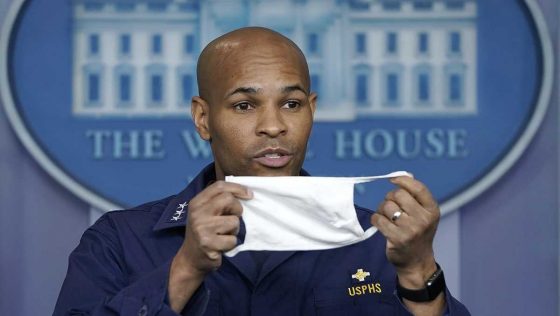 Are we getting it yet? They are all in this together. The left vs. right paradigm is a big fat lie. Former President Donald Trump's Surgeon General, Dr. Jerome Adams took aim at people who dare to claim they have personal freedom because they were born human as the reason they refuse to get the COVID-19 "vaccine" that isn't even a vaccine. 
These psychopaths on all sides of every aisle are flat out telling us they own us and we don't have freedom.  Whatever illusion was there before is gone. Adams came right out and said the people claiming freedom as the reason they're not getting vaccinated are actually taking away the freedom of their fellow Americans.  And how exactly does that work?  It's a narrative and they desperately need the slaves to take the shot.
They Are ALL IN ON IT! Republican Governors Try To Convince Followers To Take The Shot
There's a 24/7 propaganda campaign for this vaccine for a pandemic that is more of a hoax than anything else. And even IF their numbers were correct, which we know they aren't because the evidence continues to point to COVID-19 not even existing in the first place, the rate of survival is 99.97%.  But those who want to own us are banking on our inability to understand what's going on and use critical thinking.  They are banking on us choosing sides to keep the slavery machine in place.
"We need to help people understand that this freedom argument is bunk. I mean, at the end of the day, we are losing freedoms because people are unvaccinated," Adams said. He then threatened to remove freedom, because to him, the argument is bunk. Meaning, we don't have freedom.  Anyone paying attention should know by now that we are slaves. But Adams all but said it:
"The consequences are, as I said last week, more mitigation. And as I'm telling you this week, I'm predicting closures in the future because we are not gonna be able to reign this variant back in before we get enough spread that it's gonna start causing closures again."
Adams added: "I don't want my kids to have to go through another year of virtual school. I don't want our hospitals to be overwhelmed, and for them to be shut down for elective surgeries like we saw last year," Adams said. "Our freedoms are being impinged upon because we have far too many people unvaccinated."
And who takes those freedoms from people? The government. So Adams. He's a member of the ruling class. His appeal to "freedom" is what's bunk. He isn't interested in setting the slaves free. 
As if anyone in the ruling class has to follow their own rules anyway.
Different Rules For The Ruling Class Than The Rest of Us
As I have said from the beginning of the hoax scamdemic, if they think they can get away with another lockdown without a slave uprising, they will do it.  It will not matter what party is in power, as this isn't about left vs. right.  This is the masters vs. the slaves. They are desperately trying to prevent the population from figuring out that they are slaves.  Many have already figured it out, and many more figure it out daily. As that number grows, so will their desperation.  Because of that, we need to be ready.
Stay prepared and alert. Use your critical thinking. Practice by reading a mainstream media article and find the inconsistencies in what they want you to believe. Apply discernment.  That's a simple way to hone your critical thinking skills. But be ready. They will not give up their power without a fight. But more and more, people are refusing to be ruled at all in any way by any system.