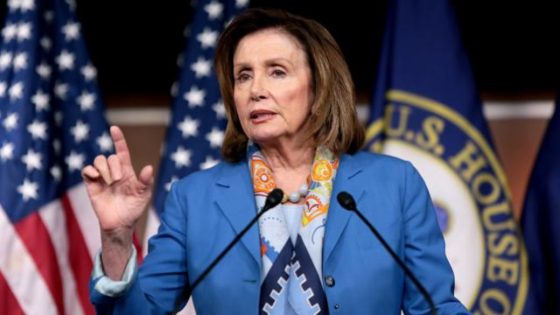 Some people will always think they are better than others, and those people invariably always get attracted to positions of power over people they think they can control. Luckily, most of America is waking up to this obvious problem plaguing society, and Nancy Pelosi is helping them see it.
Recently, Pelosi made a mockery of herself and the "lockdown" rules she helps impose on working-class Americans. The city of San Francisco has kept hair salons shut for months amid the COVID-19 scamdemic, but that didn't stop House Speaker Nancy Pelosi from stopping by for a quick wash and blowout at a closed salon — without even wearing a mask, according to a report by RT.
Are Face Masks & COVID Rituals Occultist Symbols For Submission?
Nothing to see here just Nancy Pelosi walking into a closed hair salon on Monday without a mask and violating local ordinances keeping salons closed for COVID-19.
pic.twitter.com/MCvQLeo5HJ

— Caleb Hull (@CalebJHull) September 1, 2020
This is the cost of Americans allowing politicians to become their rulers. The government has shown time and time again that they serve only themselves, and we are the enemy. The scamdemic has only amplified that divide, and it's going to get worse as the New World Order is rolled out. Honestly, this shouldn't surprise anyone. There are just "different rules for different folks," says Donald Trump Jr. on Twitter.
Different rules for different folks. https://t.co/HqwRTakvBU

— Donald Trump Jr. (@DonaldJTrumpJr) September 1, 2020
These politicians are all in on it, and they know exactly what they are doing.  They understand this isn't a pandemic, not even close, but it is an excuse to grab more power and help their masters roll out the two-tier system of the enslavement of humanity.
It All Comes Back To The Federal Reserve: The NWO Is Being Shoved Down Our Throats
Asked to address the footage, Pelosi spokesman Drew Hammill said that she "always wears a mask and complies with local COVID requirements." Hamill said the business offered her an appointment on Monday and "told her they were allowed by the city to have one customer at a time" at the business.

Pelosi has not directly addressed the footage, but she has been slamming the Trump administration's handling of the pandemic on Twitter, saying on Monday, the same day she got her hair done, that he does not "grasp the gravity" of the current crisis. –RT
This is just an "in your face" reminder that the ruling class does not care about us. They serve themselves and the New World Order (Federal Reserve) and don't care about the rules they force on the rest of us. Wake up, people. Time is running out to figure out what's really going on.