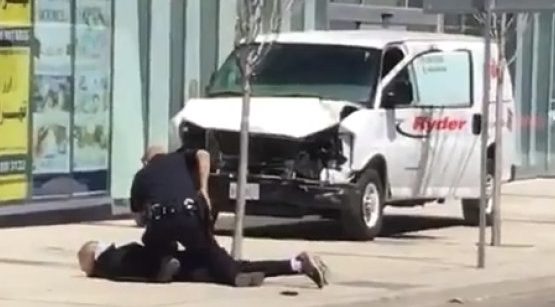 A mass homicide in Toronto is not being plastered all over mainstream media, because the homicidal maniac who committed this atrocity used a van, not a gun as his weapon. The attack has left ten people dead and another 15 injured.
You may have heard this mentioned, but there won't be calls to ban or regulate gas tank sizes on vans in the wake of this mass homicide.  (Who needs a 20-gallon fuel tank anyway?)
Toronto Police Chief Mark Saunders said that the suspected driver, Alek Minassian, 25, of Richmond Hill, Ontario, was in custody. Minassian was arrested in a white rental van less than 30 minutes after police received a 911 call about him striking pedestrians with a van, Saunders said.
Proving that guns aren't the problem, the problem is psychopaths who kill other people, authorities said Minassian left a "trail of destruction" over one mile long in Toronto without using a gun.  The suspect was also previously known to Toronto authorities.
Deputy Police Chief Peter Yuen said police received calls around 1:30 p.m. that a vehicle was driving on Yonge Street, striking pedestrians. Police said the collisions happened in the North York area at the busy intersection of Yonge Street and Finch Avenue.
"Based on witness accounts, we have a vehicle that started north on Yonge Street from Finch and drove southbound at some point in times on sidewalks, at some point in times driving southbound in northbound lanes," Saunders said.  "So, it's very clear just from a general perspective to say that the actions definitely look deliberate." At this point, "There would appear to be no national security connection" to the incident, said Ralph Goodale, Canada's minister of public safety and emergency preparedness.

To our city, our people and all those affected by today's tragic events, our thoughts and prayers are with you.

— Toronto Maple Leafs (@MapleLeafs) April 23, 2018
Now, if the gun control activists reacted to this tragedy the way they do to crazy people shooting ten people, they'de say: "but thoughts and prayers don't stop tragedies.  What about laws making it illegal to rent vans instead?'  But we know now for certain that they don't want to stop atrocities from happening, they only want the government to have all the guns – which historically, has not worked out very well for the general public. 
This van attack is a horrific mass homicide and ten people are permanently gone because of the actions of one maniac.  That should never be downgraded just because his weapon of choice didn't fit the mainstream media's communist agenda.  Thoughts and prayers for all of those affected by this disgusting act of malice.