This article was originally published by Sara Tipton at Ready Nutrition.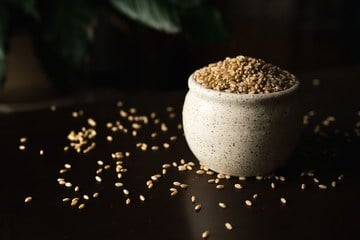 Wheat berries are a must for the food pantry and for those who are interested in eating healthy whole foods. Most notably, wheat berries are considered a true whole grain and without wheat berries, there would be no flour! What we like most about this food staple is its nutrition profile and the long storage life.
Having a supply of wheat berries in the pantry is great for enriching the diet with essential calories and vitamins rich and for an extended emergency. They will help you withstand the increased physical demands of a long term disaster, as well as keep you healthy.
Related Article: Food Prepping: Why You Should Store Wheat And How To Use It
What Are Wheat Berries?
Wheat berries are the whole unprocessed kernel that looks like a thick, short grain. They are the most natural form of wheat and their appearance is similar to brown rice and barley. All wheat products are made from wheat berries. They are often ground into flour to be used in bread and other baking. Once they are cooked whole, wheat berries have a slightly "nutty" and earthy flavor. They have a chewy consistency. They're sturdy enough to handle bold salad dressings and still delicate enough to taste delicious with some milk, honey, and cinnamon.
They can be used as a breakfast cereal, added to soups, cooked and added to salads or sprouted for a healthy snack and even sweetened for desserts. And that's in addition to grinding them into flour to make your favorite bread.
NUTRITIONAL CONTENT
A cup of cooked wheat berries has about 300 calories and is packed with fiber, protein, and iron. A normal serving of wheat berries is 1/4 cup dry which, when cooked, yields about a 1/2-cup serving. A 50 gram serving of hard red wheat berries, or about 1/4 cup uncooked, provides 163.5 calories, 1 gram of fat, 6.5 gram of protein, 35.5 gram of carbohydrates, 6 gram of dietary fiber and 1 milligram of sodium. Wheat berries are rich in vitamins B1 and B3; and the minerals magnesium, phosphorus, copper, manganese, and selenium.
*Wheat berries are readily available and can be bought in bulk from online retailers such as Amazon, and in health food stores.  Sometimes you'll see them in the bulk section of the grocery store.
How To Use Wheat Berries
Over the years, we have provided recipes for wheat berries and even added some in our book, The Prepper's Cookbook!
You can also simply cook the wheat berries (or soak them in almond milk or regular milk), add some fruit and some honey, and eat them like a bowl of cereal.  You could even top it with a pinch of cinnamon for an extra kick! My kids really enjoy this, especially if they get to pick which fruit to add.
Coming up with your own ideas is always fun too!
Try using wheat berries to make a healthy snack alternative to chips. Bountiful Baskets has a wonderful recipe you can try it out! You really have endless options when it comes to how you can eat wheat berries. Change up the flavor with adding maple syrup, honey, peanut butter, or spices like cinnamon, cumin, or cayenne for a spicy kick! One of the best ways to eat wheat berries is TOASTED!
To make a toasted savory wheat berry snack that'll please everyone, just follow the directions below:
Ingredients
Instructions
Put the oil in a skillet on medium heat. Add the wheat berries and cook them for several minutes until they are tan and toasty smelling.
Spread them out on a pan and sprinkle them with salt. You could also add other seasonings like cayenne, taco, chili seasoning, curry, cumin, etc.
What are some of your favorite recipes for using wheat berries?