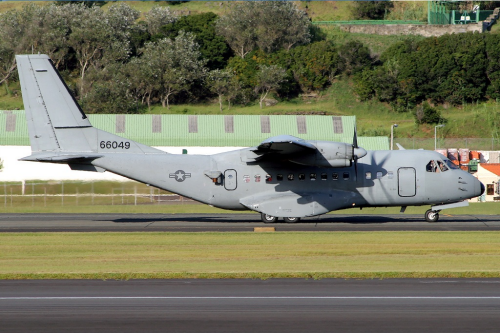 For the past two weeks the residents of Seattle have been witnessing a very strange occurrence. Day after day, a nondescript aircraft has been flying circles over their city, and the government hasn't fully explained why it's in the area. It's been identified as a CN-235, and it's only marking is an Air Force serial number. What we do know about the aircraft is that it is decked out with highly advanced surveillance equipment.
The heavily modified USAF CASA CN-235-300 transport aircraft was outfitted with elaborate information-gathering hardware, described in all of its apparent detail by the Drive. The aircraft's callsign is SPUD21, and was in the air as recently as Friday on one of its patrols. Its equipment includes microwave and ultra-high frequency satellite communications gear, as well as a multitude of cutting-edge sensors. It is unmarked, save for the USAF serial on its tail: 66042. SPUD21 flies its missions out of Boeing Field, operating via Clay Lacy Aviation, rather than Boeing's military ramp.
According to The Drive, it's equipped with tools that you wouldn't expect (or probably want) to find on a military aircraft circling a major US city.
Above all else, these types of surveillance systems are especially good at capturing and monitoring so called "patterns of life" over and around a target area. This is an especially useful tool when collecting intelligence on an enemy target or group of targets over time and can open up new possibilities when it comes to the  process of finding, fixing and finishing the enemy.
Though it has an Air Force serial number, it's been difficult to pin down which government agency is operating the plane. The Drive contacted all of the usual suspects including NORTHCOM, Joint Task Force North, the U.S. Air Force Special Operations Command (AFSOC), U.S. Special Operations Command (SOCOM), and Wright Patterson Air Force Base. None of them would give a straight answer.
Despite denying it initially, eventually AFSOC confessed to owning the plane and claimed that it was engaged in a training mission. However, AFSOC was still pretty tight lipped about the mission. "They would not elaborate or did not know what unit the aircraft belonged to specifically or exactly what type of training it was doing and who else was involved."
At this point, "training" sounds like a poor excuse. If it was something that innocent, why didn't the military admit it right away? There's no reason to hide something like that. Which has to make you wonder if this strange plane is really on a training mission, or if something very serious is going down in Seattle.